News and Information
---
Kenya protesters in police battle
March 16, 2005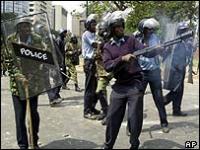 Riot policemen on duty
The police said the demonstration was illegal
Kenyan police have arrested nine people and used tear gas and water cannons in running battles with protesters before the opening of parliament.

Some 200 people were waving placards demanding a referendum on a new draft constitution which would limit the president's powers.

President Mwai Kibaki has formally opened what is expected to be a stormy parliamentary session.

His government has not kept election promises to change the constitution.

It has also been rocked by a string of corruption allegations.

'Our right'

The protesters fear parliament will amend the draft leaving the president's authority largely intact.

Riot police - some on horseback - dispersed the crowds in anticipation of Mr Kibaki's arrival at parliament.


We are not hooligans, we are not thieves, all we want is a new constitution
Kennedy Karemi
In his speech, Mr Kibaki promised to introduce a new constitution and urged MPs not to be divided along political lines.

The issue has split his ruling Narc coalition. Backers of Public Works Minister Raila Odinga say he was promised the new, powerful post of prime minister in return for supporting Mr Kibaki's election campaign.

Mr Kibaki also said he would continue the fight against corruption - another of his 2002 campaign pledges.

"We cannot afford to be divided in our efforts to fight corruption. Corruption steals from all of us," he said.

Yellow ribbons

The BBC's Wanyama Chebusiri, who was outside parliament, said police claimed the demonstration was illegal.

Security around parliament was extremely tight and those entering the building were frisked, our correspondent says.

"We are not hooligans, we are not thieves, all we want is a new constitution, which is our right," said Kennedy Karemi before being arrested by police, Reuters news agency reports.

The demonstrators sporting yellow ribbons - the symbol of the constitutional reform movement - chanted: "Members of parliament should leave the constitution alone".

The campaigners have pledged to picket parliament every Wednesday until their demands are met.

Kenyans are due to vote in a referendum on the new constitution in October.

Prior to the vote, parliament is expected to discuss and vote on the constitution's draft text.
Source: www.bbc.com
http://news.bbc.co.uk/2/hi/africa/4353949.stm
Support Caprivi Freedom
Fill out the form below to become a member of this site and receive our regular newsletter.