News and Information
---
Threatened UN staff leave Darfur
March 16, 2005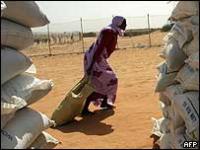 Darfur refugee with food aid
The militia has already attacked aid convoys
Foreign United Nations staff in the west of Sudan's war-torn Darfur region have been withdrawn due to threats from pro-government militia.

UN envoy to Sudan Jan Pronk told the BBC the threats arose because authorities in West Darfur were trying to disarm the Janjaweed militia.

The Janjaweed are accused of killing and raping villagers and driving two million from their homes.

Khartoum denies links to the Janjaweed, but admits arming some militia.

Some 30 foreign staff have been withdrawn to West Darfur state capital El Geneina.

The UN decision comes only a few weeks after aid charity Oxfam warned that the international community was not doing enough to improve security in Darfur.

'Taken action'

"There are threats by the Janjaweed militia against international staff, against foreigners and people in the service of non-governmental organisations," Mr Pronk told the BBC's Focus on Africa programme.



Hunger set to continue

He said a couple of dozen staff were affected by the move and humanitarian convoys had already been targeted and looted.

"The government of West Darfur has finally started some action and said these militia should return the weapons to the government which they had been given quite some time ago.

"Now they don't want to do that," he said.

The UN is in discussion with the authorities in West Darfur to try and resolve the situation and is also trying to contact the militia.

Mr Pronk said while the overall situation was improving in Darfur as a whole, some spots were so bad humanitarian activities had to be suspended to the detriment of those who needed help.

Most of Darfur's 2m displaced live in refugee camps.

In the last 18 months, the UN estimates at least 180,000 people have died in Darfur of illness and malnutrition.

An unknown number of people have been killed in violent incidents in the two-year conflict.

A UN report earlier this year concluded that while the killings in Darfur did not amount to genocide, killings, torture, enforced disappearances and sexual violence were carried out on a widespread and systematic basis and could amount to crimes against humanity.
Source: www.bbc.com
http://news.bbc.co.uk/2/hi/africa/4354933.stm
Support Caprivi Freedom
Fill out the form below to become a member of this site and receive our regular newsletter.