News and Information
---
Digital tax to aid poor nations
March 16, 2005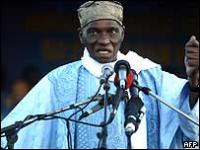 President Abdoulaye Wade of Senegal
President Wade of Senegal has led the campaign for the fund
A plan for wealthy nations to contribute a digital tax to provide hi-tech tools for poor nations has been officially launched in Geneva.

The idea is the brainchild of Senegalese President Abdoulaye Wade and Geneva is the first city to sign up.

It plans to contribute 1% of the profit companies make on public technology projects to the fund.

Dubbed the Digital Solidarity Fund, the digital tax has the backing of France, Nigeria, Algeria and Senegal.

Digital divide

The official launch of the fund was opened with a message from Kofi Annan, Secretary General of the United Nations.

"The Digital Solidarity Fund should be seen as a concrete manifestation of our efforts to achieve the Millennium Development Goals. It can help harness the potential of ICTs to empower poor and marginalised people," he said.

The digital divide is acute between the information-rich Western nations and African nations, many of which lack basic infrastructure.

The fund would help to provide not just internet access and computers, but mobile and satellite phones to aid e-learning and e-health projects.


This is the information age and if we could get it right we would go a long way
Trevor Simumba, Sierra Leone

African voices

The tax is voluntary but it is hoped other countries and cities will follow Geneva's lead.

Sceptics have questioned whether money would be better spent in providing more basic needs and raising literacy levels.

"It is true that there is a need to be literate to benefit from the internet but it can also be used to raise literacy levels," Charles Geiger, the executive director of the World Summit on the Information Society told the BBC's Go Digital programme.
Source: www.bbc.com
http://news.bbc.co.uk/2/hi/technology/4351887.stm
Support Caprivi Freedom
Fill out the form below to become a member of this site and receive our regular newsletter.