News and Information
---
Talks on Iraq government resume
March 14, 2005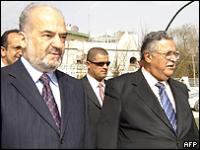 Ibrahim Jaafari, who may become PM, and Kurdish leader Jalal Talabani
Ibrahim Jaafari, who may become PM, and Kurdish leader Jalal Talabani after talks
Talks on the formation of an Iraqi government are expected to resume shortly in Baghdad.

Politicians from the Shia coalition that won January's Iraqi election have expressed renewed hope of reaching a deal with Kurdish leaders.

Kurdish officials, the second largest group to emerge from the election, have been less optimistic, insisting there are outstanding issues.

The inaugural session of parliament is scheduled for Wednesday.

The first session of the new Iraqi parliament is expected to go ahead on Wednesday, with or without agreement, though correspondents say this is likely to reduce it to a largely ceremonial occasion.

The Shia United Iraqi Alliance, which has one just over half the seats in the assembly, has been locked in negotiations for several weeks with the Kurds.

In new violence across Iraq:

* A cameraman working for a Kurdish television channel is reportedly shot dead in the northern city of Mosul by unidentified gunmen, who had kidnapped him twelve hours earlier. Husam Hilal Sarsam worked for the Kurdistan Democratic Party

* A car bomb south of Baghdad kills two Iraqi civilians shortly after a military convoy passes the car in which the explosives were planted

* In what appears to be a failed assassination attempt on a senior Iraqi health ministry official, four of his bodyguards are wounded in a roadside bomb attack in Baghdad.

Two views of talks

Ali al-Dabagh of the United Iraqi Alliance said he was optimistic a final deal would be reached before parliament met but "if no agreement is reached, the first session of the national assembly will be held on Wednesday anyway".

Jalal Talabani, the head of the Patriotic Union of Kurdistan, one of the two main Kurdish groupings, said that negotiations were in deadlock over two main points: "The first is the fate of the peshmerga [Kurdish fighters], and the second one is concerning Kirkuk."

Iraqi Arabs have been calling for the Kurdish fighters to be disbanded or integrated into the Iraqi national army.

Kirkuk, is a Kurdish-dominated town in the north of Iraq, which lies in one of Iraq's main oil-producing areas. The argument over the city is essentially an argument about who controls the areas oil revenues.

Shia and Kurdish leaders are poised to take a dominant role in Iraqi politics after years of oppression at the hands of a Sunni minority led by Saddam Hussein.
Source: www.bbc.com
http://news.bbc.co.uk/2/hi/middle_east/4347665.stm
Support Caprivi Freedom
Fill out the form below to become a member of this site and receive our regular newsletter.