News and Information
---
Rice 'will not run' for president
March 14, 2005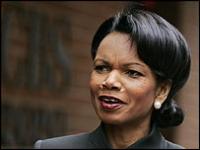 Condoleezza Rice
Condoleezza Rice has lots of Republican supporters
Condoleezza Rice has apparently ruled out a 2008 presidential bid, after only two months as US secretary of state.

Ms Rice is seen as the rising star of the Republican Party, and has been touted as successor to George W Bush.

She was repeatedly asked about her future on US TV shows this weekend.

"I have no intention. I don't want to run," she told NBC's Tim Russert on Meet the Press, adding finally: "I won't run."

Condi v Hillary?

Russert showed an unofficial website called Americans for Rice, which is soliciting donations to support a bid for the presidency.

It advertises bumper stickers and a song entitled "Condoleezza will lead us".

Commentators have been speculating on an all-female contest, with Ms Rice going head-to-head with Senator Hillary Rodham Clinton, a possible challenger for the Democratic nomination.


CONDOLEEZZA RICE
Born 1954 in Birmingham, Alabama
Went to university at only 15
Is a concert-level pianist

Profile: Condoleezza Rice
Growing up with Condi

"I won't. How's that? Is that categorical enough?" said Ms Rice after persistent questioning on the ABC channel.

Last month a survey in the US showed 81% of people would vote for a woman for president.

Of those questioned, 42% thought Ms Rice should run for the White House.

That compared to 53% who thought Mrs Clinton should stand.

'Candy fluff'

Many commentators say it is still too early to say whether Ms Rice will be a realistic candidate in 2008.

Larry Sabato, who directs the University of Virginia's Center for Politics, told the AFP news agency that Mrs Clinton is a more solid bet.

"Hillary Clinton is certainly real - she's the most real candidate on the Democratic side so far," he said.

Talk of a Rice campaign, in contrast, "is cotton candy fluff generated by those of us who pine for the intense days of a presidential campaign that is still three years away".
Source: www.bbc.com
http://news.bbc.co.uk/2/hi/americas/4347607.stm
Support Caprivi Freedom
Fill out the form below to become a member of this site and receive our regular newsletter.