News and Information
---
Zimbabwe private radio 'jammed'
March 14, 2005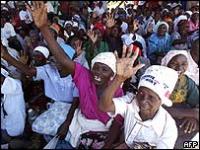 Opposition rally in Chimanimani, Zimbabwe
Parliamentary elections are due to take place on 31 March
SW Radio Africa, a private radio station broadcasting to Zimbabwe, said its broadcasts from the UK were being jammed by the government.

Listeners in Zimbabwe have not been able to receive the station for a week, station founder Gerry Jackson said.

"Our communications provider said they have rarely experienced such efficient jamming," she added.

The government denies the accusations, a state run newspaper reports.

Only state-controlled media are allowed to broadcast in Zimbabwe.

Ms Jackson set up a radio station in Harare in 2000 but it was immediately closed down by the police.

Back on sale?

Meanwhile, the Supreme Court has given a mixed ruling on an appeal by the Daily News against its ban.

Chief Justice Godfrey Chidyausiku ordered the authorities to consider an application by the country's former best-selling newspaper to start publishing again.

The Daily News, which was a persistent critic of President Robert Mugabe's government, was shut down by police 18 months ago.

A spokesman for the paper, Bill Saidi, said it intended to apply for a licence immediately which it hoped would be granted before parliamentary elections due at the end of the month.

But the judge rejected calls by the newspaper to declare unlawful the government-appointed media commission which licenses media outlets.

'Frightened'

The BBC said it had not received reports that World Service broadcasts were being affected by the alleged jamming.

The station has been broadcasting over three frequencies to circumvent the jamming.

"It takes them just 60 seconds to jam us," Ms Jackson said.

"There's someone out there who is frightened of our broadcasts."

SW Radio Africa started up in London in 2002, to avoid President Robert Mugabe's media crackdown.
Source: www.bbc.com
http://news.bbc.co.uk/2/hi/africa/4346971.stm
Support Caprivi Freedom
Fill out the form below to become a member of this site and receive our regular newsletter.