News and Information
---
Chiluba fury at seizure of suits
March 14, 2005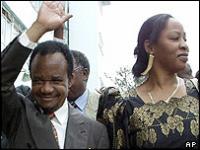 Frederick Chiluba with his wife, Regina
Chiluba was Zambia's president for 10 years
Ex-Zambian president Frederick Chiluba has hit out angrily after hundreds of his shirts, suits and shoes were seized from a warehouse at the weekend.

The former head of state, with a taste for expensive designer suits, said the raid in Lusaka was a calculated attempt to "disgrace and humiliate" him.

Police suspect the clothes were bought using government funds and believe the ex-president hid them at the warehouse.

But Mr Chiluba said his new home was too small for all his belongings.

Marcos of Zambia

"What they have done is to bring my underpants out to the general public," Mr Chiluba told reporters.


Zambians know I have always dressed very well from the 1960s
Frederick Chiluba

Mr Chiluba said anti-graft investigators were persecuting him.

"It is sad that the fight against corruption is being reduced to discussing suits, shirts, ties and, shoes. Zambians know me and know that I have always dressed very well from the 1960s," he said. "They also want to bring me into ridicule and make the case look like it is similar to [Imelda] Marcos of the Philippines," he added.

Cases

The BBC's Musonda Chibamaba says this is the latest of several seizures of properties that the former president has gone through.

Motor vehicles and buildings both in Zambia and Europe have already been seized in the past.

His handpicked successor, President Levy Mwanawasa, has been pursuing an anti-corruption drive against Mr Chiluba's former government.

Mr Mwanawasa said that he would grant a presidential pardon to Mr Chiluba if he admitted the allegations of corruption and returned 75% of the cash he allegedly stole.

Mr Chiluba has consistently denied corruption charges, saying they are politically motivated.
Source: www.bbc.com
http://news.bbc.co.uk/2/hi/africa/4348711.stm
Support Caprivi Freedom
Fill out the form below to become a member of this site and receive our regular newsletter.