News and Information
---
UN ultimatum to DR Congo rebels
March 14, 2005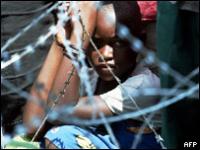 Refugee in DR Congo
Thousands of people have fled ethnic violence in Ituri
The United Nations has given rebel militias in the Democratic Republic of Congo's north-eastern Ituri region two weeks to give up their weapons.

Monuc head William Lacy Swing did not say what action would be taken against militias if they failed to comply.

The UN force has stepped up its operations in Ituri since nine Bangladeshi peacekeepers were killed by militiamen last month.

More than 50,000 people have died in ethnic violence there since1999.

QUICK GUIDE

The war in DR Congo

"They have two weeks to disarm. After that, we will see," said Mr Swing, after visiting peacekeepers in the area.

Two weeks ago peacekeepers killed at least 50 militia members in a fierce battle.

"We will be continuing to work with those that we think we can work with. But we will take out those that are refusing to cooperate," a senior UN official told Reuters news agency


UN takes fight to militias

The UN mission has 16,700 soldiers, making it the largest peacekeeping mission in the world.

Monuc has faced criticism for doing too little, too late to end the conflict in eastern DR Congo.

Some UN peacekeepers have also been caught up in a sexual scandal - accused of sexually exploiting refugees in their care.
Source: www.bbc.com
http://news.bbc.co.uk/2/hi/africa/4348579.stm
Support Caprivi Freedom
Fill out the form below to become a member of this site and receive our regular newsletter.