News and Information
---
SA, SADC Poll Observers 'Will Have Real Power in Zimbabwe'
March 8, 2005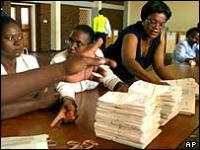 Business Day (Johannesburg)

March 8, 2005
Posted to the web March 8, 2005

Jonathan Katzenellenbogen With Sapa
Johannesburg

DEPUTY Foreign Minister Aziz Pahad says observers from SA and the Southern African Development Community (SADC) will have the power to intervene to ensure a free and fair election in Zimbabwe.

A SADC observer mission is to be deployed in Zimbabwe from March 15 to help achieve the objective of a free and fair election.

For a YEAR IN REVIEW excerpt from the Africa 2005 guidebook, click here.
(Adobe Acrobat).

Pahad said yesterday he was confident two weeks were ample for the mission to deal with allegations of pre-election irregularities.

The exact guidelines of the team's intervention powers were being worked out, but it would be expected to follow up allegations of wrongdoing.

"It is important for our observers not just to write down what they hear but to follow these things up," Pahad said.

But an election expert said that the observer missions that will oversee the March 31 poll should have been in place some time ago if they wanted to be effective.

"Already a lot has been missed," by observer missions not being in place some time ago, Denis Kadima, executive director of the Electoral Institute of Southern Africa (EISA), said yesterday.

The 50-strong SADC delegation will be led by SA's Home Affairs Minister Nosiviwe Mapisa-Nqakula and the official South African delegation will be headed by Labour Minister Membathisi Mdladlana.

Delegations will also be sent by SA's Parliament and the African National Congress (ANC).

Kadima said his organisation wrote to Zimbabwe's foreign affairs ministry and the country's electoral commission a month ago for permission to observe the elections, but was still waiting for a reply.

Democratic Alliance MP Dianne Kohler-Barnard has been chosen as a member of the SADC observer mission, the foreign ministry said yesterday.

"The foreign ministry has agreed with the DA that on account of the unavailability of Mr (Marius) Swart, Dianne Kohler-Barnard will be the DA representative on the SADC observer team," spokesman Ronnie Mamoepa said in Pretoria.

He said the agreement was reached in a telephonic conversation earlier in the day.

It was earlier reported that Swart, the DA's deputy spokesman on home affairs, had been elected to take part in the observer mission led by Mapisa-Nqakula. Reports quoted DA chief whip Douglas Gibson as saying: "I know absolutely nothing about it. Nobody nominates anybody to go anywhere but me." Gibson reportedly said his nomination of Kohler-Barnard as the party's representative on the mission had been rejected.

The DA said yesterday it was "very happy" with the outcome.

"Foreign Affairs invited us to nominate somebody, and we nominated Dianne Kohler-Barnard," said spokesman James Lorimer.
Relevant Links
Southern Africa
Zimbabwe
South Africa
Legal and Judicial Affairs

"We later heard that she was not being invited, but instead Marius Swart - who was oblivious of this fact and unavailable to go."

"We would be happy for the matter to be amicably resolved through discussion because in the end, everybody must be happy with the choice of their own candidates," Pahad said.
Source: www.allafrica.com
http://allafrica.com/stories/200503080335.html
Support Caprivi Freedom
Fill out the form below to become a member of this site and receive our regular newsletter.