News and Information
---
Jackson abuse trial set to resume
March 8, 2005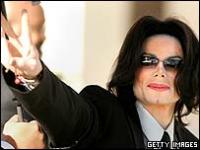 Michael Jackson arriving at court on Monday
Michael Jackson denies the charges of child abuse
The abuse trial of singer Michael Jackson is due to resume for a seventh day in Santa Maria, California.

On Monday, the younger brother of the boy accusing Mr Jackson told the trial that he had witnessed some of the alleged abuse.

Mr Jackson's lawyers are to cross-examine Star Arvizo on Tuesday.

Mr Jackson denies 10 charges of child abuse and false imprisonment. If convicted, he could face up to 21 years in prison.

With only a half-day court session scheduled and the teenage witness still being questioned by the prosecution, it is not clear when the defence might get its turn, says the AFP news agency.

Star Arvizo told the jury on Monday he had watched the pop star abuse his brother Gavin on two occasions.

He said both times he had pushed open the bedroom door to see his brother lying in bed with the pop star.

He also told the court he and his brother had been shown pornography and been given alcohol a number of times on their trips to Mr Jackson's Neverland ranch.
Source: www.bbc.com
http://news.bbc.co.uk/2/hi/entertainment/4330323.stm
Support Caprivi Freedom
Fill out the form below to become a member of this site and receive our regular newsletter.