News and Information
---
Togo opposition agree to ballot
March 3, 2005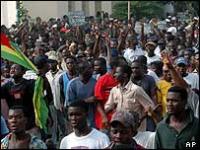 The opposition called for Mr Faure to stand down
Togo's opposition parties have agreed to take part in the presidential poll despite rules which bar the main opposition leader from standing.
The ballot, expected next month, is a bid to end the turmoil following the death of President Gnassingbe Eyadema.

The succession of his son Faure Gnassingbe to the presidency was widely condemned as a coup.

After West Africa imposed sanctions, Mr Faure stepped down, agreeing to polls as stipulated in the constitution.

'Regrettable'

No date has been set for the elections but regional officials say it is likely to be held shortly after 24 April.

"We in the alliance of Togo opposition parties have decided to take part in the forthcoming presidential elections," Leopold Messan Gnininvi confirmed on Thursday after a meeting with a delegation from the regional body, Ecowas.


My 40-year struggle for the restoration of democracy in Togo is not a personal one

UFC leader Gilchrist Olympio


Profile: Togo's vendetta victim

But under the constitution, candidates need to have lived in Togo for 12 months to stand as a presidential candidate, which bars main opposition Union for Forces for Change (UFC) leader Gilchrist Olympio from standing.

Since a 1992 assassination attempt, Mr Olympio has lived in exile in Paris and was barred from taking part in the 2003 presidential elections because he did not live in Togo.

According to the BBC's Ebow Godwin in Lome, Mr Gnininvi described as regrettable the disqualification of Mr Olympio.

"We, his colleagues in the struggle for the restoration of democracy in Togo, will continue to show solidarity with Mr Olympio until we find a way of removing that prohibitive clause from the statute books," he said.

Protesters

On Wednesday, Mr Olympio told the BBC he would give his support to whoever his party nominated.

"My 40-year struggle for the restoration of democracy in Togo is not a personal one.

"I will give my support to a candidate to be nominated by the party," he told BBC Afrique.

Mr Faure - who was president for three weeks following his father's death - will be standing as the ruling party's presidential candidate.

After Mr Faure stood down, Ecowas lifted the sanctions it had imposed on Togo.

Angry protesters had taken to the streets following the appointment of Abass Bonfoh as interim president last Friday after Mr Faure's resignation.

They demanded the former parliamentary speaker Fambare Ouattara Natchaba take over as interim president, in accordance with constitutional procedures.

Opposition parties are now expected to submit the names of their three representatives to serve on the newly created National Independent Electoral Commission.


Source: www.bbc.com
http://news.bbc.co.uk/2/hi/africa/4314403.stm
Support Caprivi Freedom
Fill out the form below to become a member of this site and receive our regular newsletter.