News and Information
---
Zimbabwe to free 'mercenaries'
March 3, 2005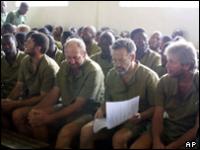 Most of the alleged mercenaries are South African
Zimbabwe is set to free more than 60 suspected mercenaries linked to a coup plot in Equatorial Guinea last year.
They may be sent back to South Africa as early as Thursday, although their lawyer thought this unlikely.

A court reduced the jail terms imposed for breaking Zimbabwe immigration laws, so they have now served their time.

The alleged ring-leader, Briton Simon Mann and the two pilots of the plane will not be released, as they were given longer sentences.

The Zimbabwe authorities said the group was en route to Equatorial Guinea last March to overthrow President Teodoro Obiang Nguema Mbasogo in the oil-rich country.

But they were found guilty of lesser charges of illegally landing a plane at Harare airport.

Rearrest

Ronnie Mamoepa, from South Africa's foreign ministry, said he expected the men - most of whom carry South African passports - to arrive in Johannesburg on Thursday afternoon.

But their lawyer Alwyn Griebenow said paperwork and plane tickets still had to be arranged, so he doubted they would arrive on Thursday.


Map of South Africa
Correspondents say the men could face rearrest on their arrival in South Africa.

In 1998, the country passed a law forbidding its citizens from engaging in military activities beyond its borders without official permission.

On Wednesday, the 12-month sentences the men had been given were reduced by four month on appeal.

Mr Mann's seven-year sentence for trying to buy weapons has also been reduced from seven years to four years and the pilots' 16-month jail terms have been cut to 12 months.

In Equatorial Guinea, 14 other people have been found guilty of charges linked to the coup plot, including plot leader Nick du Toit who received 34 years.

Sir Mark Thatcher, the son of the former British prime minister, appeared in court in South Africa last month to answer questions over his role in an alleged coup plot in Equatorial Guinea in West Africa.

He was given a suspended jail term and fined after agreeing a plea bargain to help investigators.

The conduct of the trials in Zimbabwe and Equatorial Guinea were criticised in the West, amid allegations of torture and forced confessions.


Source: www.bbc.com
http://news.bbc.co.uk/2/hi/africa/4314223.stm
Support Caprivi Freedom
Fill out the form below to become a member of this site and receive our regular newsletter.