News and Information
---
2nd case delayed
March 3, 2005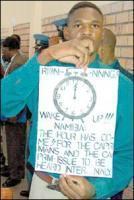 WERNER MENGES

THE starting date of the second Caprivi high treason trial has been pushed back to May 16.

The trial of 12 alleged members of a separatist movement that is claimed to have been active in the Caprivi Region from September 1998 to November 2002, is set to take place in the Windhoek High Court, and had been scheduled to start on Tuesday.

That starting date has now been moved to May 16, at the request of defence lawyer Nate Ndauendapo, who has been instructed by the Legal Aid Directorate to represent the 12 at their trial.

Ndauendapo told Acting Judge John Manyarara that he needed more time to consult with the 12, and to consider whether there is a potential conflict of interest between the 12 that would necessitate the appointment of another defence counsel.

The 12 remain in custody pending their trial, at which they will face six charges of high treason, sedition, public violence, the illegal possession of ammunition and firearms, and the illegal importation or supply of armaments.

The 12 are Progress Kenyoka Munuma, Shine Samulandela, Manepelo Manuel Makendano, Vincent Liswaniso Siliye, Vincent Khasu Sinasi, Alex Sinjabata Mushakwa, Diamond Samuzula Salufu, Frederick Isaka Ntambilwa, Hoster Simasiku Ntombo, Boster Mubuyaeta Samuele, John Mazila Tembwe, and Alex Mafwila Liswani.

Most of them were arrested in Namibia after they were deported from Botswana, where they had taken refuge earlier.

According to the Botswana authorities, the 12 were deported because they violated the conditions for refugee status by returning to Namibia.

The deportations took place on four different occasions from July 18 2002 to December 12 2002.

The indictment against the 12 states that they were involved in the activities of a clandestine separatist armed movement, the Caprivi Liberation Army (CLA), from September 1998 up to the surprise attacks that the movement is accused of having carried out at Katima Mulilo on August 2 1999.


Source: www.namibian.com.na
http://www.namibian.com.na/
Support Caprivi Freedom
Fill out the form below to become a member of this site and receive our regular newsletter.