News and Information
---
Crisis-hit Lebanon seeks new PM
March 1, 2005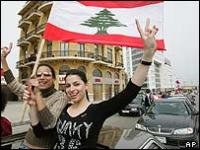 Lebanese demonstrators in central Beirut, 1 March 2005
The protesters are now turning their attention to Syrian troops
A search for a new prime minister has begun in Lebanon after the government of Omar Karami resigned amid massive street protests.

President Emile Lahoud has given political groups in parliament 48 hours to agree on a candidate, reports say.

Hundreds of people are rallying again in the capital, Beirut, demanding the pullout of some 15,000 Syrian troops.

The cabinet resigned two weeks after the killing of the former Lebanese Prime Minister, Rafik Hariri.

"We want an interim cabinet to uncover the truth about Hariri's assassination, draft a law and oversee elections this spring," opposition MP Ghassan Mukheiber told the AFP news agency.

The lawmaker stressed that Syria must withdraw its troops - which have been in Lebanon for some 30 years - before the elections.


Pro-opposition demonstrators in Beirut

Protest in pictures

The opposition is also calling for the resignation of a number of senior officials in Lebanon's security services.

Mr Karami's government will stay on as caretakers while the president consults on a new administration.

The post of prime minister is customarily given to a member of the Sunni Muslim community, while the country's president is Christian and the speaker of parliament is a Shia Muslim.

The US said that the latest events gave the Lebanese people a chance to have a new government that truly represented the country's diversity.

The immediate reaction from Syria, which backs the Lebanese government, was non-committal, saying only that it was "an internal affair" for Lebanon.

However, a BBC correspondent in Damascus says the Syrian authorities must be worried that the situation in Lebanon is spiralling out of their control, and might result in a new government demanding the immediate withdrawal of Syrian troops from the country.

Delight

Some 25,000 people in Beirut's Martyr Square erupted in huge celebrations after the government announced its resignation late on Monday.


SYRIAN INVOLVEMNT
Syrian forces in the Bekaa Valley in central Lebanon
Military intervention begins in 1976
30,000 troops in Lebanon during 1980s, currently 15,000
Syrian forces crucial in ending the Lebanese civil war in 1990 and maintaining peace
Calls for departure of the Syrians increase gradually with Israeli withdrawal in 2000
UN resolution calling for withdrawal of all foreign forces passed in Sept 2004

They gathered in the city centre despite a ban on demonstrations.

Mr Karami said in his announcement: "I am keen the government will not be a hurdle in front of those who want the good for this country.

"I declare the resignation of the government that I had the honour to head. May God preserve Lebanon."

His announcement came as an opposition-sponsored motion of no-confidence in the government was being debated in parliament.

"Karami has fallen, your turn will come, Lahoud, and yours, Bashar," the demonstrators chanted, referring to the Lebanese president and his Syrian counterpart, Bashar Assad.

Government accused

Both Mr Karami's government and the Syrian government have been accused of involvement in the 14 February assassination of Hariri - charges they deny.

Earlier, Mr Karami - who took office after Hariri resigned last year - said those who accused his government of involvement in the killing "committed a grave injustice".

Before the parliamentary debate opened, MPs observed a minute's silence in memory of Hariri.

Former minister Marwan Hadaeh said the government bore partial responsibility for the killing.

Earlier, US Deputy Assistant Secretary of State David Satterfield, on a visit to Lebanon, called on Syria to withdraw its troops in compliance with UN resolution 1559, passed in September.

Syria says not even the Lebanese want a full Syrian withdrawal, but last week it said it would draw troops back from western Lebanon to areas nearer the Syrian border.
Source: www.bbc.com
http://news.bbc.co.uk/2/hi/middle_east/4306925.stm
Support Caprivi Freedom
Fill out the form below to become a member of this site and receive our regular newsletter.