News and Information
---
US court bans juvenile executions
March 1, 2005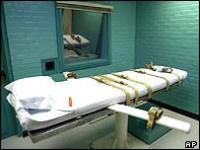 Lethal injection table
Capital punishment for juveniles had been allowed in 19 states
The US Supreme Court has abolished the death penalty for those who commit murder when under the age of 18.

The court was divided on the issue, but voted 5-4 that the juvenile death penalty should be declared unconstitutional.

The decision affects not only those convicted in future, but about 70 prisoners already on death row for offences committed before they were 18.

The decision is seen as a victory for opponents of capital punishment.

The highest US court upheld an earlier ruling by the Missouri Supreme Court, which banned the execution of people convicted of crimes they committed before turning 18.

'No deterrent'

The Missouri court said putting minors to death was a violation of the US constitution, which outlaws "cruel and unusual" punishment.

That ruling overturned the death sentence given to Christopher Simmons, who was 17 when he kidnapped a neighbour, tied her up and threw her from a bridge to her death.

Christopher Simmons, convicted of murder in the US
Christopher Simmons will not now be executed

Simmons's attorney, Seth Waxman, said the death penalty did not deter minors, since "they weigh risks differently" to adults.

There are 19 states where capital punishment for juveniles is allowed.

But Supreme Court Justice Anthony Kennedy, who voted for the ban, noted that even in these states the ultimate sanction was not often carried out.

He said the trend was to abolish the practice.

"Our society views juveniles... as categorically less culpable than the average criminal," he wrote.

Tuesday's ruling follows several others that have limited the use of capital punishment.

In 1988, it was ruled that offenders who were younger than 16 when they committed their crimes could not be executed.

In 2002, the court banned the killing of offenders with mental disabilities.

Former US President Jimmy Carter and many foreign governments, including those of the European Union, were among those who had called on the US to end the juvenile death penalty.
Source: www.bbc.com
http://news.bbc.co.uk/2/hi/americas/4308881.stm
Support Caprivi Freedom
Fill out the form below to become a member of this site and receive our regular newsletter.