News and Information
---
Burundi backs new constitution
March 1, 2005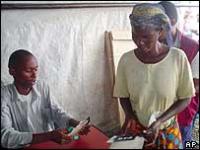 A woman waits to vote
Ballots were colour-coded, black for No, white for Yes
Voters in Burundi have approved a new power-sharing constitution designed to end 12 years of ethnic conflict.

With 80% of the votes counted, an overwhelming majority have said Yes to a proposed constitution which would see power shared along ethnic lines.

President Domitien Ndayizeye said the vote opened an "era of democracy" for the war-scarred country.

Burundi, like neighbouring Rwanda, has been torn apart by years of war between the Hutu majority and a Tutsi elite.

Challenge

Election officials said 88% of the 3.1 million eligible voters had taken part in Monday's poll and some 90% had voted Yes.

They put a white card in the ballot box to vote Yes and a black one for No.


BURUNDI
A woman waits to vote
1993: Conflict began
300,000 dead
Tutsis: 14% of the population
Hutus: 85%
Twa: 1%

Burundi prepares to move on
"Burundians can be proud of the success of this electoral day which bodes well for the polls to come," said Carolyn McAskie, chief of the UN mission in Burundi (ONUB).

The new constitution aims to offer guarantees to both ethnic groups by setting out the share of posts they will have in parliament and government and crucially also in the army.

Tutsis, who make up 14% of the population but have traditionally dominated power, will have 40% of seats in the national assembly, compared to 60% for Hutus.

Military posts will be shared equally between the two groups.

The deal has encouraged all but one of the Hutu rebel groups to lay down their arms but some pro-Tutsi parties oppose the proposed constitution, saying it does not give Tutsis enough guarantees.

Others also fear that ethnic divisions will be enshrined.

The BBC's Rob Walker in the Burundi capital, Bujumbura, says the real challenge will come after elections.

The new government will need to achieve a delicate ethnic balancing act if it is to avoid a return to violence, he says.

Hundreds of thousands have been killed since independence in massacre and counter-massacre committed against both Hutus and Tutsis.

Compromise

"Burundi is marking a very important step in its history. We are leaving a dark period of conflict and moving towards a new era of democracy," said Mr Ndayizeye.

Many rural voters know little about the content of the constitution, but they hope it will put an end to ethnic violence in Burundi, our correspondent says.

Frodebu activist
Most political parties backed the new constitution
"This vote for me means we need get a constitution and a government of national unity that will work to end this war. And I will be able to rest after six years I have been fighting," said Eric Bigirumuhirwa, a Hutu soldier.

This is the first time Burundians have voted since 1993, when they elected Melchior Ndadaye, a Hutu, as president.

Shortly afterwards, he was assassinated by Tutsi soldiers and the country descended into civil war.

Parliamentary elections are due in April and the MPs will in turn elect a new president.
Source: www.bbc.com
http://news.bbc.co.uk/2/hi/africa/4306831.stm
Support Caprivi Freedom
Fill out the form below to become a member of this site and receive our regular newsletter.