News and Information
---
Treason trial defence scores a round with eighth witness
March 1, 2005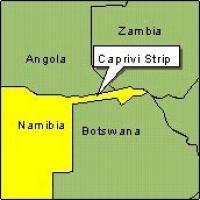 WERNER MENGES

at GROOTFONTEIN

A relatively quick round of cross-questioning of the eighth prosecution witness in the Caprivi high treason trial last week managed to achieve what many hours of cross-examination of other State witnesses had failed to do - to reveal a clear contradiction between the testimony of different prosecution witnesses.



In the witness stand in the High Court at Grootfontein was William Ndana Miti, yet another State witness who admitted that he had been involved in the activities of a movement that aimed to launch an armed struggle to secede the Caprivi Region from Namibia.

Like the previous witnesses, Ndana told Judge Elton Hoff that he had spent time in training camps that the leaders of the separatist movement had established in the Caprivi region's Sachona area and at Lyiubu-Lyiubu in the Linyanti area during October 1998.

From the Lyiubu-Lyiubu camp a group of 92 people, according to Ndana known as the Caprivi Liberation Army, left Namibia when they crossed into Botswana later that month.

That was after a stampede of buffaloes through the group's training camp had led to three people escaping from the camp.

One of these escapees, Victor Falali, was hunted down and shot dead by other inhabitants of the camp, Ndana related, corroborating the testimony that two previous State witnesses had given.

The group eventually settled at the Dukwe refugee camp in Botswana, and it was in that setting that the contradiction in the prosecution's evidence so far arose.

It was while defence counsel Patrick Kauta was cross-examining Ndana that it emerged that Ndana's version of what was happening at Dukwe clashed in one major respect with the version that the second State witness in the trial, Oscar Mwisepi, had related to the court.

Both witnesses told the court that the Namibians who were housed at Dukwe were divided into smaller groups, with committees of fellow Namibian refugees in a supervisory position over them.

It is on the issue of the committees' functions and the purpose of the division into groups that Ndana differed from Mwisepi in a significant way.

According to Ndana, the committees were there merely to conduct roll-call.

On a direct question from Kauta, he insisted that the committees were not there to conduct military training, and on a further question from Kauta, he added that it would not be true if someone were to tell the court that the people at Dukwe had received firearms and military training at the refugee camp.

"That would be wrong.

Maybe that person was being trained at night, alone," was Ndana's take on the issue.

"That person would be telling a lie, because there was no military training going on at Dukwe," Ndana added.

But that was exactly what Mwisepi had told the court, and what he had insisted had happened when he was grilled on it during his cross-examination back in September and early October last year.

According to Mwisepi, Dukwe was a sort of regrouping and reorganisation location for the organisers and supporters of the secessionist movement who had left Namibia.

He insisted that the Namibians at Dukwe were divided into "platoons", and that they were given lessons on the use of firearms.

What Ndana in essence did last week, was to rubbish Mwisepi's version of events.

State advocate Corelie Barnard tried to salvage the situation when it was her turn to re-examine Ndana after the cross-examination, but it was to little avail.

Ndana continued to insist that, while he did not know how many Namibians there were at Dukwe, and also did not know all of them, he knew what they were doing at all times - and that was not military training.

The ninth State witness, Amedius Malenga Mwanalushi, is scheduled to testify when the trial continues tomorrow.

He was already in the witness stand on Friday morning, but having been discharged from hospital only the day before, he appeared to be so weak that Judge Hoff decided to adjourn the trial early to give him more time to rest and regain his strength over the weekend.

Source: www.namibian.com.na
http://www.namibian.com.na/
Support Caprivi Freedom
Fill out the form below to become a member of this site and receive our regular newsletter.