News and Information
---
Bush pushes Putin on democracy
February 24, 2005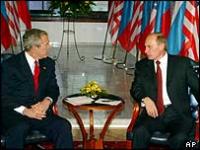 President Bush and President Putin meet in the castle in Bratislava
Both leaders were keen to stress areas of common ground
US President George W Bush has told Russian President Vladimir Putin of his "concerns" about Russian democracy.

Following talks in the Slovak capital Bratislava, Mr Bush told reporters he had expressed these worries in a "constructive and friendly way".

Mr Bush said they agreed that Iran should not have nuclear weapons.

The US has concerns about Russian nuclear co-operation with Iran. Mr Putin has said there is no evidence that Iran is seeking nuclear weapons.

Washington has repeatedly accused Iran of trying to develop nuclear weapons. It is also concerned about Russian arms sales to Syria.

At a joint news conference at Bratislava Castle, the two leaders stressed their close ties and agreed to accelerate efforts by Russia to gain entry to the World Trade Organization.

The BBC's Justin Webb says Mr Bush has made it clear that he still regards Mr Putin as a friend, but the meeting nevertheless took on the air of a showdown.

'Russia chooses democracy'

President Putin told reporters that Russia had chosen democracy "independently", without outside interference.

"Any return to totalitarianism would be impossible," he said.


President Bush meets Slovaks in Bratislava

In pictures: Bush in Slovakia
The Kremlin's centralisation of power and curtailment of press freedom have caused concern in the US - as has its alleged role in the break-up of the energy giant, Yukos.

"Democracies have certain things in common - a rule of law and protection of minorities and a free press and a viable political opposition," Mr Bush said.

"I was able to share my concerns about Russia's commitment in fulfilling these universal principles."

The meeting with Mr Putin was the final event of a European tour aimed at healing divisions over the Iraq war. Mr Bush is now heading back to Washington.

Before the Bratislava summit began, Russia and the US signed a deal to control the spread of shoulder-fired missiles - seen as a growing threat to civilian aircraft.

They also agreed on better safeguards of nuclear materials.

Concerns on both sides

The US president has been under pressure from some senior US politicians to make it clear to Mr Putin that his friendship with the US is at risk unless he maintains Russian democracy.

Map
A senior administration official told journalists travelling with Mr Bush that Mr Putin had recently told the US president that the Russian people had a history of strong tsars, and that they were accustomed to government playing a strong role in their lives.

The official said President Bush had rejected that notion.

Russian concerns include the increasing US influence in former Soviet republics such as Georgia and Ukraine.

In a speech which correspondents say is likely to have annoyed Russia, Mr Bush addressed Slovaks in a snowy Bratislava square, praising the country's stance as a loyal US ally.

Drawing applause from the crowd, Mr Bush praised the 1989 "Velvet Revolution" that defeated communism in the then Czechoslovakia.

"In recent times, we have witnessed landmark events in the history of liberty: A Rose Revolution in Georgia, an Orange Revolution in Ukraine, and now a Purple Revolution in Iraq," he said, referring to the voters' ink used in Iraq's recent election.
Source: www.bbc.com
http://news.bbc.co.uk/2/hi/europe/4292807.stm
Support Caprivi Freedom
Fill out the form below to become a member of this site and receive our regular newsletter.