News and Information
---
Botswana lecturer faces expulsion
February 24, 2005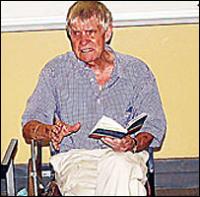 Kenneth Good
Kenneth Good was critical of Botswana's government in an academic paper
An Australian professor teaching in Botswana faces deportation after being declared an unwanted immigrant by the country's president.

Last Friday, Kenneth Good, a political science lecturer at the University of Botswana, was given 48 hours to leave.

Mr Good appears to have angered authorities with a leaked paper suggesting that Botswana is not a model for democracy in Africa.

He says the deportation order is an attack on freedom of speech.

The move to deport the 72-year-old academic is a penalty normally meted out to foreigners deemed troublesome by the government

Mr Good was due to deliver the paper at 1600 GMT on Wednesday in a departmental seminar.

Presidential powers

In the article he was set to criticise Botswana's presidential succession which he says is not an ideal model for Africa.

His lawyers say they have managed to block the deportation order and the government now has until 7 March to explain why the order should not be dismissed.

The country's authorities have confirmed that a deportation order has been issued but say they cannot comment further on the matter as it is currently before the courts.

The BBC's Letlhogile Lucas in the capital, Gaborone, says Botswana's democracy has for many years been associated with free speech.

But this is not the first time that presidential powers have been used in the country to declare a foreigner an illegal immigrant.

Usually, he says, people declared unwanted are either too vocal or are perceived to be security threats in Botswana.

Mr Good has lived and worked in the country for many years, writing articles that have, on occasion, been critical of government policy.
Source: www.bbc.com
http://news.bbc.co.uk/2/hi/africa/4291429.stm
Support Caprivi Freedom
Fill out the form below to become a member of this site and receive our regular newsletter.