News and Information
---
Michael Jackson returns to court
February 22, 2005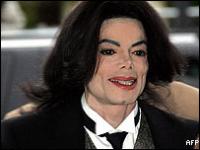 Michael Jackson arrives at court
Mr Jackson was flanked by minders as he arrived at court
Pop singer Michael Jackson has arrived back in a California court to resume his child molestation trial.

Mr Jackson, 46, was taken to hospital in Santa Maria last Tuesday after falling ill on the way to court with "flu-like symptoms".

He was kept in hospital for two days and the trial was postponed for a week to allow Mr Jackson time to recover.

Jury selection will continue in the trial on Tuesday. Mr Jackson denies 10 counts of child abuse.

Jury pool

Lawyers will once again question selected members of the public in a bid to find 12 impartial jurors.

Each side can challenge an unlimited number of jurors for any signs of bias and reject 10 jurors without cause.

The pool of prospective jurors has already been narrowed down to 240 since jury selection began.

As well as the final 12, Superior Court Judge Rodney Melville will also have to choose eight alternates, who will replace any jurors dismissed during the trial.

Suspended

Mr Jackson's lawyers, together with Judge Melville, were already present in the courtroom last Tuesday when the news came that Mr Jackson had been taken ill.

He was given intravenous fluids at Santa Maria's Marian Medical Center for what doctors described as "a flu-like illness with some vomiting".

Judge Melville suspended the trial for a week after discussing Mr Jackson's condition with medical staff at the hospital.

It was the second time the trial had been delayed. Previously it was postponed for a week after a death in the family of Mr Jackson's lead defence lawyer, Thomas Mesureau.
Source: www.bbc.com
http://news.bbc.co.uk/2/hi/entertainment/4286619.stm
Support Caprivi Freedom
Fill out the form below to become a member of this site and receive our regular newsletter.