News and Information
---
Kashmir avalanche toll increases
February 22, 2005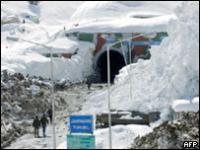 Kashmir
Some 300 people are stranded in a tunnel on a highway
At least 170 people have been killed and hundreds more are missing in Indian-administered Kashmir following the worst snowfalls in two decades.

Avalanches and mud slides triggered by heavy rain have buried entire villages and crushed houses across the area.

The Indian army has been rescuing people from remote villages, many of whom have been trapped for two days.

Many areas in Indian and Pakistani administered Kashmir are still cut-off as fears grow of food shortages.

Indian soldiers and medical personnel are searching for survivors in the worst-hit region - the series of villages in the Anantnag district south of Srinagar the summer capital of Indian administered Kashmir, which have seen 4.5 metres (15 feet) of snow since.

"These areas are very far off and it takes eight hours of walking through heavy snow to reach there," a police official told the AFP news agency.


Chances of finding survivors are very low
Lt Col VK Batra
Indian army spokesman
An Indian army rescue team has reached the village of Viltengnar, where more than 100 people were killed by the avalanche.

Soldiers rescued 74 villagers and are searching for more survivors in the village which had 600 people.

"The team has communicated that most of the homes are under 4.5 to 5.5 metres (15-18 feet) of snow and chances of finding survivors are very low," army spokesman Lt Col VK Batra is quoted as saying by the Associated Press.

Kashmir snow
Indian helicopters have dropped rations in affected areas
He said the army plans to drop food and blankets by helicopter in the area.

At least three areas in Pakistani administered Kashmir have also been cut off by heavy snow.

The BBC's Zulfikar Ali in Muzaffarabad says that between 150,000 to 200,000 thousand people are cut off in the Leepa and Neelum Valleys in Muzaffarabad district, while heavy snowfall has also been reported in the Bagh district.

But our correspondent says there are signs that the weather is improving after avalanches in the first two weeks of February killed at least 60 people.

Tourists rescued

On Monday, the Indian air force rescued 45 tourists, including eight Britons and 16 French nationals, from Ladakh.

Snow in Srinagar
Snow has affected Indian and Pakistani administered Kashmir

Soldiers also pulled out a 65-year-old woman, Hanifa Begum, after she had been buried for 50 hours in heavy snow.

Thousands of travellers remain stranded for the sixth straight day on the main 300km (185 mile) Jammu-Srinagar highway that links the valley of Kashmir with the rest of India.

Helicopters dropped rations to more than 100 soldiers who have taken shelter in a tunnel along the highway.

Officials have warned of more avalanches that could make opening roads difficult in the next few days.

There has been no electricity in the state's summer capital Srinagar for the past several days and water supplies have now been affected as well, officials say.

Srinagar airport opened briefly on Monday but officials say will remain closed until the weather improves.
Source: www.bbc.com
http://news.bbc.co.uk/2/hi/south_asia/4286339.stm
Support Caprivi Freedom
Fill out the form below to become a member of this site and receive our regular newsletter.