News and Information
---
Chirac defies Bush on China arms
February 22, 2005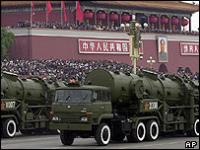 Military parade in Beijing
China's military build-up has alarmed the Pentagon
US President George W Bush has voiced "deep concern" about European plans to lift an arms embargo on China - putting him at odds with the French president.

Jacques Chirac insisted the ban was "no longer justified" but said Europe and the US should agree on conditions for lifting it.

Earlier, Mr Bush warned that arms transfers to Beijing would "change the balance" of China-Taiwan relations.

He was speaking after a Nato summit in Brussels that stressed alliance unity.

"There is deep concern in our country that a transfer of weapons would be a transfer of technology to China," Mr Bush said.

He voiced a willingness to consider safeguard clauses, but he hinted that the US Congress could still take action against any move by the Europeans.

"They know Congress is concerned so they will try to develop a plan that will ease concerns," he said.

US anxiety

The EU imposed a ban on exports of military equipment to China in 1989, following the crackdown on democracy activists in Tiananmen Square.


BUSH ITINERARY
Monday: Talks with Belgian leaders and a speech on transatlantic relations. Dinner with French President Jacques Chirac
Tuesday: Breakfast with UK Prime Minister Tony Blair. Meets Ukrainian and Italian leaders at Nato HQ, then meets EU leaders
Wednesday: Leaves Brussels for Germany. News conference with Chancellor Gerhard Schroeder in Mainz, then meets US troops in Wiesbaden
Thursday: Gives speech in Slovak capital, Bratislava, meets Russian President Vladimir Putin

Diary: Odd couple of nurses
At a glance: US/Europe splits
China sees Taiwan as a renegade province, to be allied to the mainland by force if necessary.

The BBC's business reporter Mark Gregory says the Pentagon is worried that at some point it might be called upon to defend Taiwan from Chinese attack.

China has the world's fifth largest national arms budget - though it is still dwarfed by the US military budget.

Mr Bush is due to hold talks later on Tuesday with European Commission president Jose Manuel Barroso and Luxembourg Prime Minister Jean-Claude Juncker, whose nation holds the rotating EU presidency.

In a positive signal for the White House, Mr Chirac - a staunch opponent of the US-led invasion of Iraq - said France would join the Nato mission to train Iraqi forces.

"Europe and the United States are true partners," he told the Nato summit, urging more dialogue.

Mr Bush said Nato was the "cornerstone" of the transatlantic relationship.

All 26 Nato member countries are now helping the Iraqi government, Nato officials announced.
Source: www.bbc.com
http://news.bbc.co.uk/2/hi/europe/4288067.stm
Support Caprivi Freedom
Fill out the form below to become a member of this site and receive our regular newsletter.