News and Information
---
Namibia's secretive plan to execute Genocide in the Caprivi Strip opens
June 24, 2016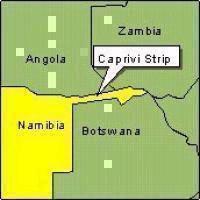 Namibia's secretive plan to execute Genocide in the Caprivi Strip opens

Caprivians are under serious threat of total extinction from the Namibian Government; it is planned to be the worst compared to ruthlessly murder, torture and forced disappearances and acts of gross human rights committed in 1998 and 99 in the Caprivi Strip.

The Namibian Government has this week deployed more soldiers and security forces in the Caprivi Strip, residents of Caprivi are terrified by a lot of movements of heavily armed soldiers patrolling everywhere and they are scared that the 1998 situation is coming back again.

The Namibian Government has always maintained tension over the Caprivi Strip because the residents of that territory have always disputed and denounced sovereignty of Namibia. On the 11th of June 2016 (last weekend) there was so called a high profile meeting where all Swapo leaders from the Caprivi Strip including Ministers, deputy Ministers, Councilors and other anti UDP and CCG individuals met to discuss about CCG which they called as a threat to the region. CCG (Caprivi Concerned Group) is a peaceful pressure group advocating for the peaceful resolution of the Caprivi Strip. In the said meeting; the Governor Mr. Alfea Sampufu repeatedly called and appealed to the central government to wipe away members of the Caprivi Concerned Group and their sympasizers. The known butcher of the Lubango has timeously threatened to shoot them, he himself if it was in the olden days.

We are reliably informed of another secrete meeting held in Windhoek, where the instruction of the deployment of soldiers in the Caprivi was given, the soldiers are instructed to shot to kill all those advocating for peaceful settlement of the Caprivi Strip i.e. CCG and UDP members. Similar instruction was given by former President of Namibia Mr. Sam Nujoma in August 1999 which resulted to many loses of lives unaccounted for to date; and the perpetrators of those heinous human rights violation in the Caprivi continues to enjoy immunity.
This comes at a time when Swapo leaders in the Caprivi Strip, namely Councilor Cletius Sipapela and Martin Limbo CEO for Bukalo Village Council have been caught tribalising the residents of the Caprivi.
Limbo called for Rwanda type of genocide to be carried on the Mafwe tribe in the Caprivi, he insulted traditional leaders and Mafwe in general, accusing them to be the master mind for secession of the Caprivi Strip from Namibia. The central government did not bother itself to discourage or reprimand Limbo for his dangerous utterances and hate speech.

On the other crucial event, the Namibian Government has re-appealed against 43 Caprivi high treason suspects who were released by the high Court last December, this was done after mandated period for appeal has passed; they are now issued with letters informing them to seek legal assistance as they are facing re-arrest for over 200 charges including high treason. About 28 UDP members perished mysterious deaths in a short period of time while in detention.

We have no doubt as we are reliably informed of the imminent cruel and inhuman attack on the Caprivian people, that the re-arrest of fellow Caprivians is the planned mass murder of the Caprivian people which is in the making.
We would like to appeal to the international Community, SADC, civic organizations, Churches and human rights organizations and all peace loving groups and individuals to come to the rescue of the Caprivian people who are facing the imminent extinction planned by the Namibian Government.

Caprivians shall not submit to subjugation, tyranny and intimidation posed by the Namibian Government, there is absolutely no amount of terror that will change the Caprivians from seeking and demanding freedom from the Namibian regime which is occupying Caprivi by force. The Government has dismally failed to convince even themselves as to how they acquired Caprivi disregarding international borders between two Countries. We therefore call upon the Namibian Government to release all Caprivi political prisoners, to agree to a peaceful solution to the Caprivi conflict. We shall never weaver, retreat or allow ourselves to be slaves and ruled by barrel of a gun throughout our lives.

We call upon all the Caprivians to stand up if not done so before, to stand and fight for what belongs to us. We have lost many people murdered in cold blood, now we are facing a total or ethnic extinction, we must come together now and DENOUNCE in strong terms intimidation with all its forms, forced occupation amidst government propaganda machinery, demand our freedom once and for all.

It is our time now to stand united for a purpose and not to yield to threats and intimidation of autocratic Namibian Government.

Forward ever in our guest for freedom
Backward never to forced occupation of Caprivi.
United we stand divided we fall.



Source: United Democratic Party -(UDP)
Support Caprivi Freedom
Fill out the form below to become a member of this site and receive our regular newsletter.