News and Information
---
CHARLES MUBITA"S "IMAGINARY ZAMBEZIA AND IMPERIAL CARTOGRAPHY" ARTICLE.
March 31, 2016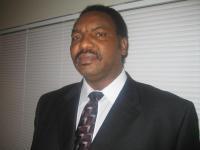 CHARLES MUBITA"S "IMAGINARY ZAMBEZIA AND IMPERIAL CARTOGRAPHY" ARTICLE.

The saying that history builds our future has always been true, at least, to most humans. We know that as a people, we are the ultimate guardians of our liberty and it is history that qualifies us to judge the actions and designs of men. For those who were fortunate enough to achieve a degree of high purpose, like a PhD, they need to use their academic knowledge to think independently about problems even in unfamiliar territories. This is a fact because people believe and gauge them as problem solvers, critical thinkers, lifelong learners, and most importantly, well informed people.

In Dr. Charles Mubita's article of March 4th, 2016 which featured in the New Era column, a learned friend spoke his mind by criticizing what he termed as, "some Namibians tripping over themselves to be seen as sole authorities on the history of the Zambezi Region, primarily in relation to its purported original location." He further stated that, "Namrights as testified in court and other concerned Namibians claim that the Zambezi Region has never been part of Namibia, that it has always been part of Zambesia, and therefore, should be either returned to Zambesia, or be left alone. Amazingly, the same compatriots claim that Caprivi is their preferred name, and that their arguments tend to reinforce the sentiments of those who want secession of the region."

Everybody has the liberty to freely express their opinion, join or support a cause according to what they believe is the truth. Namrights and concerned Namibians follow the Caprivian history with their eyes open and speak the truth while some certain individuals, like Dr. Mubita cannot stomach this truth for reasons known only to them. Let us help you, Dr. Mubita, you either are a Caprivian native or naturalized citizen or a foreigner, and if you are a foreigner we do not blame you because you hold allegiance to your country of origin and not the Caprivi Strip.

Zambezi is the mighty river running through countries like, Angola, Zambia, Caprivi Strip, Botswana, Zimbabwe and Mozambique. The Caprivi Strip was never part of Zambezia, the name Zambezia is found and known as a certain province in Mozambique and for your information no one, but no one want the Caprivi to be part of any territory. Intenge means (kutenga, that a piece of land we given is small) just as Bukalo means (Buikalo as the khuta originaly has it sitting at Kabbe). Sebitwane a king who defeated and conquered Lewanika's Barotseland was a kololo from South Africa. It could be true he lived at Linyanti which happens to be the original name of the Caprivi Strip (Linyandi).

Not getting embroiled in your false political demagoguery, we say that Caprivi Strip is not a Namibian territory. If you want equip yourself with knowledge, you better find out from GRN why they went to the extent of altering Act 38(5) of the South West Africa Constitution by replacing it with the 1999 illegal law. Peruse through Namibia"s Constitution, no mention of the Caprivi Strip can be found in there. Furthermore, ask yourself as to why SWAPO want not the name Caprivi Strip to be heard or to exist.

It has always been the case that humans have been drawing maps for thousands of years past and present as part of an effort to understand their environment; It must then be understood that wherever humans reside there goes a trend to demarcate a place or area where they have influence. A house built in nearly every homestead has a yard to show that it is someone's property. Mubita should know that even before civilization during the time when people lived in a natural state, humans used to kill each other for the simple reasons that, one encroached another's property. We learn that, such state of affairs brought about the birth or introduction of headmen and/or chiefs with laws to control the status quo (Locke). Humans never stopped to fight for what they regarded as their ancestral land as history teaches us about the past wars like those between Lozis and Kololos.
SWAPO, ANC, and many other liberation struggles fought for what they believed their colonizers took away from them. The United Democratic Party (UDP} and Caprivi African National Union (CANU) under the leadership of honorable Mishake Muyongo persistently fought and continues to fight to eradicate the white apartheid and now the black colonization and SWAPO supremacy in the Caprivi Strip.

Dr. Mubiata should be reminded that when he first became an announcer in Radio Zambia during SWAPO/CANU liberation struggle he was there because of CANU. As an academician, although truth hurts, speaking truth shall save your skin. Caprivian struggle is for all citizens in that land; we all need to unite, speak the same language about the sufferings we enduring under SWAPO. Mr. Muyongo once said that Prof. Dietscho was never a friend to SWAPO and the current Namibian President, Dr. Hage Geingob; it is now trending in the media about their fluid relationship. Caprivians have never been friends to SWAPO; it is just a matter of time you all shall know where home is, remember that.

UDP Bulela Sicaba Sa Utwa!

Chrispin Mutoiwa
UDP Secretary for Information
Mutcrio@yahoo.com

Source: United Democratic Party (U.D.P.)
Support Caprivi Freedom
Fill out the form below to become a member of this site and receive our regular newsletter.