News and Information
---
August 2, 2015 message from Mishake Muyongo.
August 1, 2015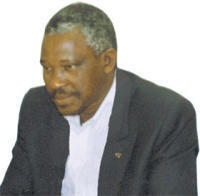 August 2, 2015 message from Mishake Muyongo.

As always, once in every year Caprivians from all walks of life should come together commemorating August the 2ndas the day carrying substantial and meaningful memories in the history of the liberation struggle for all Caprivians. August 2nd carries with it the burden so heavy that all the people of the Caprivi Strip must celebrate remembering their fallen heroes and heroines. They deserve to be remembered for their brevity and contribution as they sacrificed their lives so that you and I live to see the next day as we forge ahead in our journey to conquer the enemy.

Question is; how do we [Caprivian nation] repay them?Previously in my statements, I had mentioned that the freedom train was ignited and every Caprivian should be a crew member to see it reach its destination. I say here now that nothing is impossible under the sun, all we need do is to get united not only in word of mouth, but in deeds. United we stand, divided we fall.

Countrymen and friends, a black man's oppression and colonialism is known to be the worst compared to that of a white man. This is a fact because hatred and ignorance cloud their judgment. To start with, UNHCR instruments and more specifically the Refugee Convention of 1951 provides the UNHCR with three options to follow in case of refugee crises, for example: repatriation, resettlement, and integration. Now, whereas repatriation has been exhausted, the other two seems to have not been entertained by UNHCR in Botswana.

You see, as the decision to return Caprivians back home was seen by both the UNHCR and Botswana government as the viable solution to the refugee crises, it was supposed to be done with open minds and it is not late to revisit the UNHCR framework especiallywhen it comes to ceasing refugeestatus. After the organized mission to go and see, come and tell I do not see any genuine change in the Caprivi Strip. The situation has even gotten worse by day as the initial fear of persecution has not been eradicated.

It is currently known that SWAPO can stop at nothing to destroy Caprivians. Were the causes for refugee displacement that led to the recognition of their status as refugees addressed, if I may ask? In the absence of the fundamental change, I believe that it is logical for the protection roll to be taken by the United Nations as Namibia has failed to protect the Caprivi Strip population.

In response to Joseph Diescho's utterances, specifically on the Caprivi Strip cause, I believe in Irving's words that "where others have wishes; great minds have purposes". He [Diescho] should know that I spent all my life fighting to liberate my country and all that I am now, or hope to be, I owe it to my country the Caprivi Strip and not Namibia, therefore, for the Caprivi I live, and for the Caprivi I die.

I must say that it is not bad to dream, but as a son of the Caprivian soil, Diescho knows as well as I do that he was once called a "political prostitute". We don't want to believe that the more a person learns, the less intelligent he becomes. Again, in 1989 when Namibia attained independence him (being the most learned academician then) thought and felt almost assured that he was automatically to be nominated Prime Minister of the republic. But when things never worked his way he sought refuge in South Africa and all Namibians especially Geingob knew that they were not good friends. Caprivians seek no pardoning or forgiveness from anyone, let alone from Namibia. We owe no one and shall never apologize to SWAPO of Namibia as we seek independence of the Caprivi Strip territory.

Furthermore, it is not wise to use unconstructive criticism because honestly, while Diescho is a Caprivian by birth, he fails to use his academic acquired knowledge to boldly stand by and let alone advocate the truth about the history of the Caprivi Strip. As an academician he [Diescho] was supposed to be liberal and never take issues from face value. My advice to him is; if he wants to learn about the history of our motherland, the Caprivi Strip there are many people still alive where he can seek and find wisdom from.

For the record, if people could search my hasard, Pohamba and I had some altercations about the issue of an independent Caprivi in the Namibian parliament. But of importance is for the people to know that SWAPO and CANU merged as two separate political parties. It must be emphasized that SWAPO never honored that agreement. I need not be pardoned by SWAPO because it is not Namibia I am fighting for but the Caprivi Strip.

Again, it is considered an insult for Diescho to belittle the intelligence of both Chief Boniface Mamili and all Caprivians who wants freedom and independence of their motherland. If Namibia has doubts whether I don't have support in the Caprivi Strip. Why not allow a UN organized referendum in the Caprivi Strip? The Caprivi Strip has and is not a Namibian territory as section 38(5) of the SWA Constitution speaks volumes. So, repealing it without the consent of Caprivian citizenry makes the 1999 gazetted law of Namibia null and void.

Know that SWAPO's occupation of the Caprivi Strip shall soon come to an end; it is just a matter of time. Nonetheless, we shall never waver in our quest for freedom.

We are our own liberators, the struggle continues and thus Caprivians should never lose hope because there is light at the end of the tunnel.

Forward ever, backward never!

Mishake Muyongo
President
United Democratic Party (UDP)

Source: United Democratic Party (U.D.P.)
Support Caprivi Freedom
Fill out the form below to become a member of this site and receive our regular newsletter.