News and Information
---
Namibian refugees refuse to return home
April 23, 2015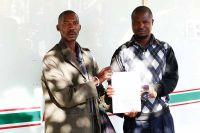 Namibian refugees refuse to return home

by Khonani Ontebetse
23-04-2015

Scores of Namibian refugees who fled to Botswana in the 1990s following the Caprivi Strip dispute say they are not ready to return to Namibia.

Early this year, the Botswana and Namibian governments signed an agreement at a meeting in Namibia that the remaining Namibian refugees should return to their country by December 31 this year.

In a petition handed over to the Government of Botswana, Namibian High Commission and the Office of the United Nations High Commissioner for Refugees (UNHCR) in Botswana, on Monday, the refugees state that their leaders from the United Democratic Party are still in exile and the party is currently banned by the Namibian Government.

"It is important to mention that the president of UDP, Hon Mishake Muyongo, and the traditional chief of Mafwe, His Royal Highness Boniface Mamili are all in exile. So far these leaders and members of the UDP, dully referred to as Namibian refugees have not denounced their political opinion or objective of an independent [Caprivi] Strip," states the petition.

The petition further states that "on the other hand, the virtual persecutor, who they ran from, and who is the Namibian government, has not stated whether or not the political opinion of the concerned refugees is still construed as a crime or treason." The concerned refugees argue that they had suggested a political dialogue between UDP leaders and the Namibian government in order to peacefully resolve the political dispute which is keeping them in Botswana as refugees.

"All stakeholders should be cautioned against overlooking and deflating the refugees' political opinion and suggested solutions. Mutual respect and understanding is the beginning of peace," they said in the petition.

They stated that while it is important to relieve Botswana and UNHCR from the refugees' burden it is equally important to prevent history from repeating itself and respecting Caprivi people universal right to self determination as stated in the first Article of the United Nations Charter and other international statutes."

"The passing of time without necessary and correct interventions cannot change attitudes or opinions of rival groups, organisations or institutions, nor can it kill people's political rights," the petition also stated.

They stated that they fully support Botswana government's position that refugee status should not be a lifetime status.

"This does not in any way mean that refugee status can be arbitrary revoked because of time alone, but that whatever problems causing people to flee from and not willing to return to, their countries should be effectively resolved by sovereign authorities in such refugees' country of origin and all responsible agencies or organisations in time," reads the petition. The refugees state that to send them back to Namibia without undertaking effective interventions to address issues that led them to flee in the first place is a risk for the refugees in Botswana. Chances, they say, are they would be persecuted and flee again or violence may erupt.

"We believe that integration will interfere with or totally deny them their universal right to self determination whereas resettlement will only send them far away from their families compared to the proximity of Botswana, their host country," the petition reads further.

"We do not reject voluntary repatriation but we also have evidence that most high treason prisoners and state witnesses are Dukwi returnees who came back through the same voluntary repatriation.

Most of them who were repatriated are unemployed," they said.

They added that "We reject plans of implementing the three UNHCR's preferred durable solutions on Caprivi (known as Namibians) refugees currently hosted by Botswana in the absence of a political dialogue and therefore demand a political dialogue between Namibian Government and political leadership of the refugees to find an eternal solution to the Caprivi political depute."

The agreement reached between Namibia's minister of immigration Pendukeni Iivula-Ithana and Botswana's Minister of Defence, Justice and Security, Shaw Kgathi in Windhoek last month. Part of the agreement states that Botswana will not allow any Namibian refugee to stay in the country as of Dec. 31 2015. The agreement also sought to invoke the Cessation Clause that allowed Namibian refugees to stay in Botswana.

According to the cessation clause, a person's refugee status that was legitimately granted would end on Dec 15 2015 but those granted amnesty for political offenses would stay a bit longer.
Source: www.sundaystandard.info
http://www.sundaystandard.info/article.php?NewsID=22824&GroupID=1
Support Caprivi Freedom
Fill out the form below to become a member of this site and receive our regular newsletter.