News and Information
---
THE UNITED DEMOCRATIC PARTY (UDP), MOURN THE DEATH OF LATE ALEX LISWANI.
October 30, 2013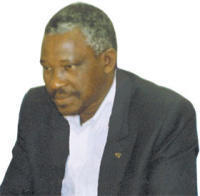 THE UNITED DEMOCRATIC PARTY (UDP), MOURN THE DEATH OF LATE ALEX LISWANI.

Fourteen years has passed, while innocent Caprivian people's lives in the Namibian prisons have been lost. Most of them were surrounded and arrested on or after August 2nd 1999. It is indisputable that they all underwent torture at the hands of the Namibian police and government as permanent scars can bare testimony to such brutal and inhuman degrading treatment or ordeal.

They have been dying first as a result of the brutal torture they underwent, second as a result of the unhygienic conditions in prison where it was on record that they were fed with food containing human feces and cement.

We once mentioned that SWAPO and government of Namibia bought poison from China that was supposedly to be used against the radicals within their party ranks. They instead found new targets in defenseless Caprivians where they are carrying out these murders as no one has investigated them.

What have Caprivians done to deserve this inhuman and degrading treatment? Seeking freedom and independence is a right of everyone, including Caprivians. Killing and destroying innocent lives will never make a case go away; it only adds pain to an injury. The only logical and lasting solution to the Caprivi Strip case is; negotiations around a political table with the United Democratic Party leadership.

Stop murdering innocent lives; free all the imprisoned Caprivians, and be civil to bring your side of the story on a UN monitored political table.

To the family members and relatives of the late, I am ware that words however kind cannot mend your sorrow, but know that we care, share your loss and wish you comfort and peace of mind. While the road you walk may seem dark, may there be light at the end of the tunnel. This is a difficult road to walk in, but always remember that when the shadows fall, you do not walk alone.

To the people at home, these deaths should remind you that our mandate to free the Caprivi Strip is paramount. We should double our efforts to see the Caprivi Strip independent from Namibia. Know that a loss of any Caprivian is irreplaceable. But despite these losses, we shall never rest until the Caprivi Strip is free.

Alex Liswani may your soul rest in peace.

Mishake Muyongo

President
United Democratic Party (UDP).

Source: United Democratic Party (U.D.P.)
Support Caprivi Freedom
Fill out the form below to become a member of this site and receive our regular newsletter.