News and Information
---
43 acquitted in treason trial
February 11, 2013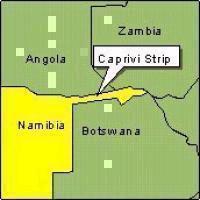 12.02.2013

43 acquitted in treason trial

By: WERNER MENGES

FORTY-THREE of the men who have been facing charges in the marathon Caprivi high treason trial were pronounced not guilty on all charges yesterday.

Judge Elton Hoff discharged the 43 following the close of the prosecution's case against them. Sixty-five accused persons now remain in the dock in the trial, facing a total of 278 charges in connection with allegations that they participated in a plot to secede the Caprivi Region from Namibia through armed means between 1992 and 2002. Judge Hoff had a rapt audience before him as he delivered his ruling on an application for the discharge of 91 of the accused persons before him, which defence lawyers launched following the close of the State's case in February last year. He also dealt with the evidence which was before the court in respect of 17 of the accused who are currently not represented by defence lawyers.

Judge Hoff started with the delivery of his ruling at 10h30 and continued, with no break, for the next seven and a half hours, announcing the acquittal of 43 of the accused by 18h00. For the remaining accused, the trial will have to continue, and they now have to decide whether they will be testifying in their own defence, or if they want to risk remaining silent in the face of the evidence which Judge Hoff has found has been proven against them.

For the first time since the trial was moved to Windhoek at the end of 2005, the public gallery was full yesterday. It was a captive audience which listened to an historic judgement to the end.
Among the accused who were not discharged are some of the alleged leading figures in a plot to secede the Caprivi Region from Namibia, including John Samboma, alleged commander of the separatist Caprivi Liberation Army, Aggrey Makendano, Thaddeus Ndala, and former National Assembly member Geoffrey Mwilima.

Judge Hoff found in respect of them that there was evidence that showed that they had either committed overt acts from which a hostile intent to overthrow the authority of the State in the Caprivi Region could be inferred, or that they had associated with a common criminal enterprise to commit high treason, or that they had been aware of treasonous acts and had failed to report this to the authorities.

With regard to the 43 accused who were found not guilty, Judge Hoff found that the evidence presented by the prosecution did not show that they had committed any of the offences of which they were accused. In many instances, prosecution witnesses mentioned the names of the men who have now been acquitted as they gave incriminating evidence against them, but then failed to positively identify the person mentioned in court. In instances where no positive identification was made, Judge Hoff indicated, he did not rely on that evidence which had been given. A first phase of the trial started with the hearing of a jurisdiction challenge in the High Court at Grootfontein in October 2003. The accused were asked to plead to the 278 charges on March 15 2004, and the hearing of opening addresses and testimony started on August 23 2004.

The men acquitted yesterday include the first accused in the case, Calvin Liseli Malumo.
Also acquitted are Chris Sitali Mushe and Tobias Kananga, who were represented by defence lawyer Hennie Krüger; Fred Ziezo, Richard Mungulike, Phelem Mboozi Mutuwangele and Gilbert Poshowe, who were defended by Christopher Dube; John Tibiso Masake and Isaya Shaft Kamwanga, represented by Jonathan Samukange; Obrien Mwananyambe, Joseph Mufuhi and Adams Muyumbano, represented by Jorge Neves; Joseph Kabuyana, Ernest Salufu Samunzala, Thaddeus Mundube and Francis Mubita, represented by Greyson Nyoni; Michael Mundia Mubyana, Oscar Gilson Libuo, Richard Saweke, Elvis Puteho, Simon Max Mubita and Wilson Mutumuswana, defended by Percy McNally; defence lawyer Patrick Kauta's clients Chrispin Samahili, Linus Chombo, Stephen Ntelamo, Molisious Simone, George Mutanimiye, Kennedy Simasiku Chunga and Aggrey Simasiku Muamba; Stephen Kandela Mashando, Vasco Inambao Lyonga, Jacob Linus Musondeke, Chombo Elvin Kauhano, Rosco Matengu Makapa, Richwell Kulisesa Mahupelo, Moven Kawana Chombo and Linus Kashala Luseso, all represented by Victor Kachaka; Fredrik Lutuhezi and Victor Luyandile, represented by Clive Kavendjii; Ernest Lifasi, Charles Samboma and Kisko Sakusheka, represented by Profysen Muluti, and one unrepresented accused, Genese John Kabotana.

Most of the accused have been in custody for more than 13 years, following a wave of arrests which were carried out in the Caprivi Region after alleged separatists carried out surprise armed attacks at Katima Mulilo on August 2 1999.


Source: www.namibian.com.na
http://www.namibian.com.na/news/full-story/archive/2013/february/article/43-acquitted-in-treason-trial/
Support Caprivi Freedom
Fill out the form below to become a member of this site and receive our regular newsletter.