News and Information
---
CAPRIVI CONCERNED GROUP ANNUAL REPORT 2012
January 1, 2013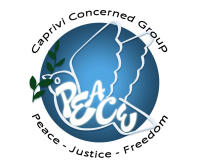 CAPRIVI CONCERNED GROUP

Annual Report

2012 31 December 2012

1. Introduction

In this report we will give an overview of all major activities which we carried out from April 2012, whether successful or not. Real names of non – members of the concerned group will not be used herein (for security reasons). However, real names of public officials or political leaders and members of this concerned group will be used as such.

Caprivi Concerned Group (CCG) is not a political organization and holds no political ambitions of contesting in any sort of political elections. The concerns towards founding this organization are:

a) The length of the main Caprivi High treason trial
b) The mysterious deaths of high treason suspects
c) The livelihood of children and siblings of Caprivi High treason detainees, and detainees themselves
d) The Caprivian refugee or exile population and their livelihood too.

The intention of this report is to inform all members, supporters or sympathizers of CCG of what has been done at the leadership level so that they may identify our successes and failures in 2012, our first year of operation, and therefore make constructive and progressive recommendations or contributions of any sort.

2. Limitations

The following are the main challenges/limitations which we faced in our operations:

• Lack of financial and material resources.
• Lack of access to electronic mass (public) media such as public radio and television.
• Fear (if not an orphan spirit) engraved into the hearts and minds of almost all Caprivians.

3. Major events or encounters

a) The disapproved peaceful demonstration of April 13 2012

Because the Constitution of Namibia plainly authorizes people to peaceful assemble and freely express their opinions, we believed that notifying the police is just a formality and way of seeking protection or security. Therefore, we wrote and submitted a notification letter to police on the 5th of April 2012 to peacefully demonstrate on Friday, 13 April 2012, unfortunately, it turned out that this notification letter became a requisition letter to which police can say yes or no.

On Thursday 12 April 2012, around 16h10 the Regional Commander called us to go for the response to the supposedly notification letter. Four of us, namely Nalisa Muyahi, Edwin Samati, Mr. Aldrin Mahulilo, and Mr. Lenox Lutambo went. In the Commissioner's office there were six other people. Among them was the Deputy Regional Commander of Nampol and the NDF regional Commander of Caprivi, Mr. Majanga Liyali. Others were members of the Caprivi high treason investigation unit and state intelligence service.

We arrived earlier before the Inspector General's response was received but its nature or content was already communicated to the regional commander. We did not wait for too long and a fax was received. This was the General's response. A copy was made and one of us was given the letter to read aloud for everyone in the office to hear. It disapproved our request for a peaceful demonstration.

The regional commander then said that his force will be vigilant the following day, Friday 13 April and that he will not want to see any gathering. He told us to leave the office and we left.

We shared the bad news with others through SMS and FACEBOOK. When we went to the local radio station to make an announcement, a senior announcer Mr. Zecks Linosi told us that the issue we want to put on air required police authority. We pleaded with him and explained the whole situation but he could not help.

b) CCG meeting with Caprivi Regional Council

Present was the Regional Governor, Hon. Lawrence Sampofu, his Special Advisor, Hon. Ignatius Nkunga, and the Governor's Personal Assistant, Mr. Risco Maloboka, The Chief Regional Officer of Caprivi, Mrs. Regina Ndopu, Constituency Councilors namely Hon. Rafael Mbala of Kabbe Constituency, Hon. Bernard Sibalatani of Katima Urban Constituency, Hon. Warden Simushi of Katima Rural Constituency, Hon. Cletius Sipapela of Linyanti Constituency, Hon. David Muluti of Kongola Constituency, the Regional Commander of Namibian Police in Caprivi region, Commissioner Bollen Sankwasa and his deputy, the Regional Commander of the Namibian Defence Force in Caprivi region, Mr. Liyali Majanga, State Intelligence agents, and four of us (the organizing committee) namely, Mr. Nalisa. N. Muyahi, Mr. Edwin M. Samati, Mr. Aldrin H. Mahulilo, and Mr. Retief M. Kangongo.

After introductions, the governor said they want to know the main motive behind the demonstration. We denied discussing the petition because the demonstration was denied. We told them that we see no good reason to discuss that with them because they are not the ones who disapproved the demonstration and they were not the ones petitioned. Hon. Sipapela indicated that, after understanding our motive, the Regional Council may take it up to Central Government, "after all a peaceful demonstration cannot be denied to people as long as it is peaceful as enshrined in the Constitution of Namibia" he said.

When we finally conceded to their persistent request (to discuss), they kept accusing us of being secessionists, especially Hon. Rafael Mbala. We repeatedly informed them that there is nowhere in the petition where it is stated that we want to secede Caprivi from Namibia. We said this several times but they surely did not change their perception maybe deliberately.

We told them that all we want is a political solution to the Caprivi political dispute and the Caprivi high treason trial. We also brought their attention to the number of deaths of high treason suspects, the suffering endured by the family members of those trapped in the high treason detention, the length of the trial which had already taken about thirteen years then, and the Caprivian refugee population of more than one thousand who are also dying in foreign land.

We explained that the dispute is solvable through a political dialogue and a referendum, and we should therefore not ignore it because of the social economic effects it has on the population of Caprivi.

They charged that we did not write the petition ourselves, that somebody wrote it for us! Hon. Regina Ndopu argued that there are very few people in Caprivi who are affected by the dispute or who would want Caprivi to be a Country on its own. We said that only a referendum can give us exact numbers to that conclusion.

Hon. Sibalatani even suggested that as concerned people we should have come with a copy of the 1964 SWAPO – CANU merger agreement because it is bone of contention in this dispute. This was supported by Hon. Sipapela. We did not respond to this contribution because Commissioner Sankwasa interjected by suggesting to the Governor (Hon. Sampofu) who chaired the meeting to excuse him and his team from the meeting because the discussion is getting more political than was intended. They were not excused.

Hon. Simushi suggested that we (the concerned) should help government to persuade those particularly in Dukwi refugee camp (Botswana) to come back home. We told him to first tell us what conditions those in Dukwi gave for them to come back. We advised that government of Namibia should look into political concerns of Caprivians in exile.

The governor then told us about the "Mushala Gang" in Zambia and how it was "wiped out". He said that there is no way secession can be dealt with but to wipe out (to kill) all those with that idea. He went on to say (or warn) that maybe we (the concerned) have not seen blood or dead people, we should not think that when one is accidentally cut by a knife on the hand what comes out is blood, "that is not blood", "I saw blood and dead people myself". He also told us that he has a lot of experience of war as he served on several peace-keeping missions in Africa.

He lastly said we will be held responsible for the document (petition) but he does not know by whom and that in this case we will have to prove our innocence!

c) Public meeting of June 3 2012

Having being denied the right to express our opinion through a peaceful demonstration, followed by gross public misinformation about our main aims and objectives of the banned demonstration, we requested a public meeting to counter the false information distributed by state and SWAPO controlled newspapers.

Before this meeting, we were reliably informed that the Presidential Affairs Minister and Attorney General, Hon Albert Kawana and the Special Advisor to the Governor, Hon. Ignatius Nkunga went to Mafwe Traditional Authority at Chinchimani and asked if they aouthority knows anything about us. Our names and villages were read to the Khuta (District Indunas) to show that we come from the Mafwe area of jurisdiction.

Hon. Kawana told the Indunas that government of Namibia is no longer having money to pay lawyers and feed prisoners. Hence, Government of Namibia will shoot and kill anyone talking about the Caprivi political dispute. Hon. Nkunga said that high treason suspects were supposed to be freed in September 2012 but because of the demonstration it was reported that their case will only be finalized in January 2013!

However, the traditional authority told them that we indeed come from its area of jurisdiction but would not allow any gun shot on us or our villages but that our respective district khutas will summon and question us. District village Indunas were informed that they should warn theirs subjects not to associate themselves with us (the concerned) because if they do so they will be killed (not arrested) and their villages will be bombed. Against this background we found it vital to call for a public meeting so that we accurately inform the public about our main aims and objectives.

The public meeting was held on Sunday, 3rd of June 2012 in Ngweze Community Hall from 14h00 to 16h00. A keynote statement was given by Mr. Edwin Samati. The attendance of the public was not good enough because of numerous initial threats by Constituency Councilors, the Governor and the likes of Hon. Kawana. However, the Regional Commander, Commissioner Bollen Sankwasa attended the meeting.

Two crucial testimonies were heard, one from a former high treason prisoners Mr. Chinca (Chibakuta) and another from a son of Mr. Richard Mundia (a high treason suspect). Mr. Chinca gave his account of prison life and how he was falsely accused. Mr. Mundia's son gave his account of how he is struggling with life in the absence of his father. Others gave their personal appeal to the government of Namibia to find a lasting political solution to both the high treason trial and the Caprivi political dispute.

Journalists from different institutions such as the Caprivi Vision newspaper and the Namibian Broadcasting Cooperation (NBC) were present. However, the Caprivi vision newspaper and the Namibian newspaper published a report about the event but NBC did not broadcast anything about the event. There were other cameramen whose institutions were not identified. We suspect that they were state security agents.

d) Open letter to the Prime Minister, Hon. Nahas Angula

Just four days after the public meeting, on the 7th of June 2012, then Prime Minister of Namibia, Hon. Nahas Angula was reported in the Namibian Sun newspaper saying that government of Namibia will only enter into dialogue with Mishake Muyongo if he denounces secession intentions of Caprivi region. Barely a week after, Mr. Muyongo responded by asking as to what subject would government of Namibia hold talks with him if not on the Caprivi political dispute. No word followed from government since then.

Our desire to see dialogue between these two political opponents triggered us to write and open letter to the Prime Minister to echo Mr. Muyongo's question hopping that government would respond. The letter was published in the Caprivi vision, the Namibian Sun and informante in July 2012. To date, government has not responded to the question or the open letter.

e) Response to the London – Based Concern Caprivian

After the publication of the open letter to the Prime Minister, a concerned Caprivian "based in London" wrote a letter which was published in informante newspaper, to respond to us titled: Response to the concerned group of Caprivians.

In short, his letter implied that we are the mouth piece of Mr. Muyongo, that we were part of the 2nd August 1999 incidence, and that it is too late for peace and dialogue. We informed him that we do not ask or answer questions on behalf of any individual, political organization or tribe, that much of the issues relating to the 2nd August incidence he raised should be answered by UDP leadership once in a dialogue with government and that government of Namibia would equally answer questions posed by UDP.

Our response was also published in informante newspaper on 8 August 2012. He also counter responded but we found that he was very far from getting our point, maybe because of different geographical points of view (London and Caprivi!).

f) Meetings with all Caprivi traditional authorities

Having learnt that national leaders have negatively taken our issue to all traditional authorities in Caprivi, we also opted to visit traditional authorities so that they can hear directly from us. We approached the Mafwe Traditional Authority to set an appointment for a meeting but we were advised by the Ngambela (Prime Minister) Hon. Patrick Likukela to seek police authorization to hold such a meeting for the Khuta's safety and security.

We requested such authority including escort from police and we got such authority but not police escort. We used the authorization letter to request meetings with all traditional authorities in Caprivi. Not all traditional authorities accepted to have a meeting with us. Those that did not accept us did not give any reason for the reject.

Those that allowed us to have a talk with them, we told them our main concerns, our fears, aims and objectives. We cannot give more details of these meetings but the feedback was basically that the traditional authorities have no hand in political issues; they did not reject or accept our concerns in totality but said they heard our concerns, and they are also concerned.

g) International Appeal

On the 24th of September 2012 we appealed to the the 67th UN General Assembly to explore the Caprivi high treason trial and Caprivi political dispute. We also called on attendants to encourage Namibian representatives in attendance to discontinue the Caprivi high treason trial, to unconditionally release all Caprivi high treason prisoners, and to seek a peaceful resolution to both the trial and the Caprivi political dispute in general. This appeal was sent to all ambassadors at UN representing all UN member states. A report about this appeal was also published in the Namibian newspaper on the 26th of September 2012.

h) Meetings with Sub – Khutas

After visiting main Khutas, we began to visit sub – khutas in various places. We visited a total of twelve khutas, namely Singalamwe, Malengalenga, Kanono, Linyanti, Muketela, Sachona, Lubuta, Lizauli, Namushasha, Kasheshe (Mbeha and Maulukupeka), Bito, and Makanga. Kaliyangile district khuta refused to meet with us. We received many invitations but we were largely affected by the availability of resources. However, this program will resume next year, 2013.

At Muketela and Lubuta, Indunas did not show up for the meeting even though they respectively confirmed twice a day before that they will be available for the meeting. We are convinced that they were intimidated by SWAPO leaders in those areas.

However, the meeting at Kanono was disrupted by Mr. Mazias Mubulaye Munsu who got very furious for reasons only known to him. He stopped Mr. Aldrin Mahulilo who was giving the main message (of the concerned) before he could finish presenting. He said we (the concerned) are causing confusion, supporting secessionists, and misleading people. He said he does not want people in Kanono to be arrested. At some stages he wanted to leave the meeting saying that when his SWAPO comrades will hear that he was present at the meeting they will say that he is part of the concerned but Mr. Pit Matengu kept on advising him to sit and listen. After a bitter exchange of words with Mr. Kangongo and Mr. Nalisa, he said he is a SWAPO party member dead or alive and everything that the SWAPO government does is well with him. He added that that SWAPO is poison to others but it is meat to him.

Learning that Mr. Munsu would not give any chance for the concerned to continue with the presentation of their case peacefully so that Indunas, and others who were present would then give their opinions, the Concerned decided to proceed to the next meeting on their program, namely Linyanti. However, Mr. Linus Kamwi was left desperate, unhappy and frustrated by the disruptive behavior of Mr. Munsu, even telling him that he is scared because he is one of the people who were falsely reporting high treason suspects.

With all other sub – khutas visited the feedback was positive in the sense that they said district Indunas were warned against any association with the Concerned Group but after listening from us (concerned), they said they did not hear anything wrong in the issues presented to them. They only warned us not to go wrong but to remain right. Some said that there is no way they can shy away from the issue of those in prison and those in exile because they have children either in prison or exile or both, and that they are burdened with many responsibilities in the absence of those in prison and exile.

Others said they were reminded of how they were abducted and interrogated on several occasions for several hours without food or water. Mr. Evans Simasiku was a regular name in all testimonies related to lengthy abductions or interrogations in search of high treason state witnesses, mostly siblings to testify against their brothers. Honestly, one can write a 300 pages book just about Mr. Simasiku.

At Makanga, an old man, Mr. Lawrence Lifasi told us how he was interrogated by the high treason investigation unit of which Mr. Evans Simasiku was part of. He said three AK47 riffles were pointed at him during one of interrogations; one pointed him in his mouth, another pointing his head from the left side and the third one from the right. He said he was deprived of both food and water during this interrogation.

In one of these meetings we were informed that there is a list of another group of Caprivians which is close 100 who are to be arrested for high treason at the end of the current high treason trial in connection with the 1999 armed attack. The person who told the gathering said that she has been used by SWAPO and its government in many ways and that she is aware of a list of people. Some of the people on the list were state witnesses in the main Caprivi high treason trial which is still dragging on.

One of the Indunas at Lizauli showed us his deformed index finger saying that it was hit by a bullet when the Special Field Forces of Namibia surrounded and fired several shots into his courtyard because they suspected that there were rebels inside. Still at Lizauli another Induna told us how he was unlawfully detained for several hours and kept at Mashi Khuta of Chief Tembwe Mayuni.

i) Meetings with other institutions

In September 2012 we approached the Pastors' Forum of Caprivi region in writing to request a meeting with the forum. The chairperson of the forum, Mr. Limbindo requested an outline (sort of and agenda) of issues we intend to discuss with the forum. We provided the requested outline on the 22 September 2012 but we were later informed through an SMS that the board of the forum decided that the forum cannot discuss issues which are in the court of law and that our issues are more political in nature. They said they can only help in prayers.

On the 2nd of November 2012 we requested a meeting the Caprivi Regional Youth Forum but we did not receive any written response to date. The Chairperson of the Forum, Mr. John Ntemwa telephonically told Mr. Samati that the issues indicated in the requisition letter were very sensitive. However, Mr. Samati told him that there is a dire need for these issues to be debated in order to find a lasting solution. Mr. Ntemwa insisted on seeing us first before a response would be given but ours was to meet the forum not the chairperson alone. So we never met, but waiting for a written response to date.

A similar request was made in October 2012 to the Caprivi Regional Executive Committee of the Rally for Democracy and Progress. The RDP – REC of Caprivi was authorized by the national leadership of RDP to meet us. We were informed that some members of the REC had other commitments and could therefore not make it to the meeting. Some of those who were present were the Regional Secretary, Mr. Lister Sabuta and the Town Councilor of RDP at Katima Mulilo Town Council, Hon. Matongela Tapiso.

As usual we explained our main aims (concerns) and gave the opportunity to the RDP – REC to share their perspective of the issues we raised. They had no objection to our concerns stating that the same issues are affecting some of them and many of the RDP membership in Caprivi. They indicated that where necessary they will be available for participation in some of the concerned group's activities. They also said that they will not bar their members from supporting the group.

We also met the Vice President of the newly revived Caprivi African National Union (CANU), Mr. Baxter Kulobone in October 2012. We had met Mr. Benson Kaapala in April 2012 already. Mr. Kulobone said he was sent by the party leadership to meet us. He explained the aims and objectives of CANU, the progress so far, and then advised us to look beyond tribal lines. We did likewise and also told him how much we are still trying to include all tribes, and how difficult it is to impose a concern on one who is not concerned. We also met the Secretary General of the party (CANU) Mr. Robert Sililo on the 28th of December 2012, who also updated us on the progress and future plans of his party. We did likewise.

We submitted a request for meeting the Caprivi Regional Executive Committee of SWAPO on the 2nd of November 2012 but they have not yet responded. Often times when we inquired we were told that the SWAPO regional leadership was busy with campaigns and preparations of national SWAPO 5th ordinary congress. After the congress, on Thursday 13 December 2012 we found the Caprivi regional coordinator of SWAPO, Mr. Linus Mafale in his office. He told us that he forwarded our request to the SWAPO National headquarter in Windhoek for direction. He said he cannot decide such nature of requests but rather be directed by his superiors and if we meet, the minutes will be taken and sent to Windhoek. We told him that we will keep on waiting.

j) The second intended peaceful demonstration

We requested a peaceful demonstration on Friday, 9th of November 2012 which was supposed to be held on the 23rd of November 2012. The Regional Commander of Caprivi region, Commissioner Bollen Sankwasa, told us that the Inspector General, Leut. Gen. Sabastian Ndeitunga could not understand the main aim of the requested demonstration in the notification letter. We edited the letter, particularly the main aim of the intended peaceful demonstration and indicated that we want to call for a peaceful political solution to both the Caprivi High treason and Caprivi political dispute. We changed the demonstration date to Friday, 30 November 2012.

On Tuesday, 27 November 2012 we were informed by the regional commander that the Inspector General was still waiting for a legal advice from the Attorney General, Dr. Albert Kawana.

In Newera newspaper of Friday 14 December 2012, we expressed our dissatisfaction and regret against Nampol in the manner they are handling our demonstration request and called for the intervention of President Hifikepunye Pohamba. However, the regional commander called on us to be patient because the General is still waiting for a legal advice and promised that the feedback will be soon provided. We have not received the feedback to date.

4. Security issues

Some of us have been receiving strange phone calls from unknown individuals. State intelligence vehicles happen to pass by our places (homes) often times. Our phone calls are often not clear enough because of irritating beeping sounds or very low volume and at times echoes of oneself.

When we were at Kanono an Isuzu vehicle usually used by CIDs came and parked about 200 meters away from where we held the authorized meeting with Indunas. There vehicle also followed us to Linyanti but could not be seen near the meeting place at Linyanti. We also learnt of an infiltration of malicious state agents in our group who have dropped out along the way for failing get anything to incriminate us. We therefore stopped expanding the leadership committee even though we have nothing to do with anything wrong.

5. Conclusion

We take this opportunity to thank all those who helped us in our revolution through donations, advices and even publication. May God abundantly bless you in the year 2013. We look forward to your continued support next year. Comments or recommendations can be sent to our email address shown as the footnote.

We would also like to recommend civil organizations and opposition parties in Namibia to publicly advise the Namibian government to enter into dialogue with the United Democratic Party (UDP), and to release all Caprivi political prisoners.

Lastly, we recommend that the United Nations should consider the suffering of Caprivians in prison, exile and at home and therefore pass a resolution to peacefully settle the Caprivi political dispute between the government of Namibia and the United Democratic Party.

Source: www.capriviconcernedgroup.com
http://www.capriviconcernedgroup.com/2012-annual-report/
Support Caprivi Freedom
Fill out the form below to become a member of this site and receive our regular newsletter.