News and Information
---
THE UNITED DEMOCRATIC PARTY (UDP) MOURN THE DEATH OF LATE BRANSON MUDALA KWALA
December 25, 2012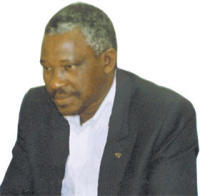 THE UNITED DEMOCRATIC PARTY (UDP) MOURN THE DEATH OF LATE BRANSON MUDALA KWALA

We were deeply saddened to learn of the tragic loss of Mr. Branson Mudala Kwala. We know that the entire Caprivi Strip is truly shocked and saddened to hear about his passing. This has come as a blow to all the traditional authorities in the Caprivi Strip and to the United Democratic Party in particular. He was a father figure, an icon whose work was felt by both the traditional authorities and he was a big player in the Caprivian politics. Caprivians knew him as a great man, brave man, and a warrior who feared no man and was always prepared to face any situation head on. The United Democratic Party (UDP) and all the people in prison, at home and in exile salute him and his services towards the party and his country. He is a hero whose life never perished in vain, but sacrificed so that his country may be free one day. His name shall be put on the wall and in the book of heroes who will always be remembered.

To his family, it is a known fact that there are no words we can offer that will make this any easier, but hopefully just knowing that people care will allow you to lay some of the burdens on us. It is during this dark hour that we want you to know we are and will be with you in your sorrow and prayers always. Also, we all are reminded in the book of John, which states "Truly, truly, I say to you, he who hears my word and believes him who sent me has eternal life; he does not come into judgment, but has passed from death to life."

To all the sympathizers and fellow countrymen, Mr. Branson Kwala was snatched from us far too soon and at the time when we needed him so much and this loss reminds us that the work to which he dedicated his life remains undone. So, as we honor his memories, we hope each of you will take comfort in knowing that his commitment to his fellow countrymen, tradition and politics will never be forgotten. We will always carry them in our hearts, and his legacy of service will inspire us as we work together toward a free Caprivi and a better place to live in.

To SWAPO of Namibia we say, murdering innocent people is an act of cowardice. It solves no situation or problem but exacerbates the situation even further. Time to release all Caprivians in your prisons is now because too many and innocent lives have been lost without proper reasons for murdering them. Know this that, for every man you have murdered you will be made to account for his death one day. Remember that!

May his sacrifice be rewarded with eternal peace.

Sincerely

Mishake Muyongo
President
United Democratic Party (UDP).



Source: United Democratic Party (UDP)
Support Caprivi Freedom
Fill out the form below to become a member of this site and receive our regular newsletter.