News and Information
---
WE MOURN THE DEATH OF LATE LISTER TUTALIFE.
September 16, 2012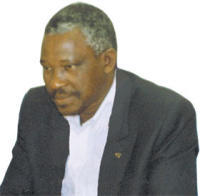 WE MOURN THE DEATH OF LATE LISTER TUTALIFE.

Death though common, is something people never get used too. We mourn the death of late Lister Tutalife whom we convinced he died in the same manner others in prison had perished. He was a dedicated man in the Caprivian struggle and politics. The United Democratic Party (UDP) and all the people in prison, at home and in exile salute him and his services towards the party and his country. He is a hero whose life never perished in vain, but sacrificed so that his country may be free one day.

To the family members and relatives, it is my belief that words however kind cannot mend your heartache and sorrow but know that; we care, share your loss and wish you comfort and peace of mind. While the road you walk may seem dark, may you see light on the path ahead. May you always hear, even in your hour of sorrow, the gentle singing of the lark. When times are hard may hardness never turn your heart to stone, but always remember that when the shadows fall, you do not walk alone. Although it is difficult today to see beyond the sorrow, may looking back in memory help comfort you tomorrow.

To all Caprivians, greater love hath no man than this, that a man lay down his life for his friends and country, (John 15: 13). It is during these times that we all must reflect on our lives and ask ourselves the question: what have we done for our country? Now more than ever, Caprivi needs your contribution. SWAPO is relentless in their plan to eradicate Caprivians from the face of the earth. You see, they bought poison from China that was firstly intended to be used within their party ranks to silence those who were against them. They now have found the right target; the Caprivians in their prisons. In the night of death, hope sees a star, and listening carefully, one can find comfort in what tomorrow brings.

Namibia has taken the role of colonizers in the Caprivi Strip. By forced occupation, SWAPO is colonizing the Caprivi Strip, and it is this reason that we say colonialism is a crime against humanity. There is no humane, democratic, and/or non-exploitive colonialism. It is even much worse when it is practiced by a black man. It is time you stop these killings and find a logical and lasting solution to the Caprivi political problem.

Lister may your soul rest in peace.

Mishake Muyongo
President
United Democratic Party (UDP).


Source: United Democratic Party (UDP)
Support Caprivi Freedom
Fill out the form below to become a member of this site and receive our regular newsletter.