News and Information
---
Response to unfounded allegations about Late Hon. Brenden Simbwaye by Mr. Gilbert Mutwa:
December 19, 2011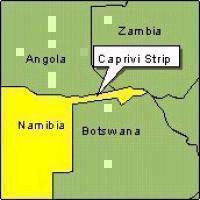 With your permission Mr. Web-Master allow me to critically respond to Prince Gilbert Muraliswani's article regarding the arrest of Late Hon. Brenden Simbwaye. The allegation is the height of irresponsibility and a sign of weakness in mind.

I strongly feel and believe that the Prince is running away from the truth. It's unfortunate that the gentleman seems to be blinded with tribalism and in a way trying to entice his Masters. I would therefore wish to dismiss these barbaric and unfounded allegations based on illiteracy and myopic that Hon. Mishake Muyongo tipped the Minority Security Forces about the trip of Hon. Simbwaye to Lusaka, Zambia. If the Prince doesn't have the records of what transpired or how things went about, he should shut- up his mouth perhaps he was still very young when the incident took place.

Mr. Gilbert Muhongo Mutwa you must stop manufacturing and fabricating baseless statements without an aorta of truth. You should avoid feeding the people with wrong information, though of course I am certain of the fact that, you are the kind of people that have resorted in writing history that have never existed. It's high time you must learn to be honest to yourself and face the real situation on the ground.

I am prepared to open the Pandora's Box and without mercy spill the beans. If today we were to resuscitate or bring back late Ernest Likando to life, who also claimed to be a member of the Royal Family, I should think he was going to set the record straight with regard to the death and all the tribulations Hon. Simbwaye went through by your Royal Family particularly in the hands of Late Chief Muraliswani. There was a document that was in position of your Father pertaing all the details of how Hon. Simbwaye went about up to a point when his life was taken.

Mr. Gilbert Muhongo Mutwa less get on our toes, who killed Hon. Brenden Simbwaye? Heat the nail on the head. Your own biological father Late Chief Muraliswani condemned Hon. Simbwaye to death if you don't know get it from me. He was killed simply because he refused to be President of a Homeland in the Caprivi Strip and that was in 1975. Even the Police officers who executed him were Subias and I will reserve their names but I am deadly sure that you know them. Now my question comes, have you been brave enough to inform the nation that your Father was the whistle blower pertaining the death of our beloved Leader. If you were really at heart with his death what did you do to bring the culprits to book.

This is a living story, it's only that you people you hate the truth but that is the reality of the matter you either take or leave it, and therefore, you must stop shifting your atrocities to others. Be informed that you have a case to answer. Hon. Brenden Simbwaye was buried within the vicinity of Katima Mulilo. We had our beloved brothers (Freedom Fighters) of C.A.N.U who died at place called Kacelo or Malo some where there; they were reported and killed in cold blood by your fellow vigilantes of the Royal Family.

In my view a Prince is a man of respect and a well disciplined person but in your case it's the opposite. I am not taken by surprise of a rumor surrounding you that, you are an illegitimate child.

Mr. Gilbert Mutwa you went to an extent of saying that Hon. Muyongo must go back to Zambia where he originates, this clearly demonstrates to me that you are very much ignorant of your own history. If you knew how the chieftainship of the Mafwe started you could have not mentioned that.

On account of your illiteracy and being a prodigal son I hereby wish to recommend that, you should be taken with immediate effect to Chainama hospital of Zambia which deals with lunatic and uncultured people for wheel alignment and panel beating of your brains perhaps you will come back to your senses.

Above all, if you really knew of who you were, I am pretty sure you could have not came up with these innuendoes and sarcastic remarks of this nature. Such illusive and unimaginable statements can eventually force you to commit suicide because you really sound to be abnormal. You must go back to your elders and learn more about your own history. It's quite cumbersome to understand but you have to cope up with the truth, its regretful though I am known to be a good Samaritan, in your case I can't, please bear with me that I can not because that is what we call "Ma ngoma kuli Shakila"(your own baby)

Mr. Mutwa, do you know how you came about in the Caprivi Strip? Are you aware why you went to an extent of calling Caprivi "Itenge"? Do you know that the historical or original name of Caprivi is "Linyandi "Our history is very clear and straight forward. There is a say that says " Let the sleeping dog lie " Don't provoke the situation before trouble troubles you. Stop day dreaming rather dream at night. You must go back to school and learn more about your own history.

Furthermore, I would like to remind you that while in Lusaka, Zambia on a scholarship program your name Gilbert Muhongo Mutwa was deleted for several times just to stop you from going to school simply because you were a Caprivian. If you can recall, you almost went mad calling the Owambos by names and I quote "a ba ba Nzovu ka ba tu suni" meaning these Elephants doesn't like us. It's Hon. Muyongo who chipped in and you were finally sent to Poland. This is the badness of little knowledge because it will not appreciate good things but has room for destructive criticism.

Never mind, I am a peace-maker. I finally realized that you guys are swimming in a pool of confusion; therefore, something has to be done to quickly rescue you from this deteriorating situation. There will be a special symposium of its kind that will be conducted in Katima Mulilo immediately after New Year. You are cordially invited to attend, please don't miss.

Further information will be communicated.

We are looking forward to the year 2012 which is already on our doorsteps. Less welcome it with open hands because it has a lot for you and me.

From: Mr.ChikaMachembwe.

Caprivi Strip

Source: United Democratic Party (UDP)
Support Caprivi Freedom
Fill out the form below to become a member of this site and receive our regular newsletter.