News and Information
---
UDP'S POINT OF VIEW ON DIESCHO'S RECENT VISIT AND PUBLIC LECTURE IN THE CAPRIVI STRIP.
November 30, 2011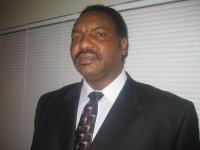 Let us say that we appreciate the participation of Professor Joseph Diescho, a renowned academician and son of the soil, who came to the Caprivi Strip to conduct a public lecture focusing much on education, tribalism and history surrounding issues of politics in Africa and particularly in the Caprivi Strip. Honestly, we welcome your openness highlighting certain issues that affected Caprivians then and now. Your contribution over these issues is highly appreciated; and well come to Caprivi Strip, the land of controversy. It is important to note that education opens doors to good life and it is up to the beneficiaries to uphold that. However, it (research)sometimes depends on whom and where the Professor got information in the first place, that can make his written or oral information unbalanced, distorted or unfounded.

We believe that your visit to the Caprivi in 1982 gave you a glimpse(s) to the Strip's social and political history past and present, it was a research or information from one person which in this case makes it slope sided. As University Professor, you need not be told as to what constitutes a good research. Much as we speak on behalf of the Caprivian populace, we also believe that there are some segments within the population that does not buy into our ideas and premise, but the majority does. This is always the case because we did our research good enough to know so.

You were correct to mention that Caprivi was not and is not part of South West Africa, and that Caprivi radio was in Johannesburg as part of the South African Broadcasting Co-operation (SANBC); and that as a country it had its own government and its first Chief Minister was Chief Moraliswani. Also, you were correct to mention about the merger between SWAPO and CANU but your assertion that there were some of the things that were not discussed during the merger leaves room for people to debate about. The most important thing that qualifies to be debated is that, Caprivians played their part and SWAPO did not. The claim by SWAPO that they dismissed Mr. Muyongo from SWAPO is not only incorrect but out of context. The fact is this that you can't dismiss an associate member. SWAPO and CANU were two political parties that ran parallel to each other. The agreement was that both political parties SWAPO and CANU members shall return their separate membership. Therefore you can't dismiss an associate member, who is not a card-carrying member of your political party.

The two parties also had agreed that they should come together to fight the common enemy and at the attainment of independence, Caprivians be asked whether or not they want to become Namibians or remain independent, this we believe is what needs to be debated and resolved. A serious case will never loose its flavor until and unless resolved to the satisfaction of the offended or bereaved. In other words killing a person today and you run away to hide in another country won't make the case go away, once you surface, you will be summoned to attend trial over your offence (s) or misdemeanor. SWAPO should not hide on the issue of saying that Mr. Muyongo was supposed to bring up the Caprivi case in 1989, or saying that he was part of the Namibian constitutional convention where he never voiced anything about the Caprivi independence. It strikes the same to SWAPO that being the co-signer of the merger they were supposed to be honorable and bring out the issue of the merger before going on discussing about the Namibian Constitution. Did they do so? The answer is no. It looks like the Professor was quick to pin point the mistakes done by Mr. Muyongo and overlooked those of the SWAPO party, which makes his claim slope sided.

As a matter of fact, The Caprivi Strip was illegally occupied by force of arms by the racist regime of the then South Africa, and now is still occupied by force of arms by the illegal regime of Namibia. The present regime being black in face, but white in illegal deeds, so the only difference between the two is that the present regime of Namibia had made an agreement with the representatives of the Caprivi, which it should honor regardless of time. It should stop killing, torturing and kidnapping the people of the Caprivi at night and face the Caprivi Strip case head on.

The professor should also take cognizance of the fact that, it was after a decade and only after Caprivians had left the country to fight for the Strip that is when SWAPO looked around to see if there was any law that warranted them to govern the Caprivi Strip and guess what, Act 39 (5) of the South-West Africa Constitution Act, 1968 (Act No.39 of 1968) proved otherwise. Now, instead of following the constitutional and peaceful means to allow a referendum to ask Caprivians whether or not they want to be part of Namibia or remain independent, they sort to repeal that act without the involvement of the people of the Caprivi. Of recent, SWAPO in an attempt to fuse the Caprivi Strip case sent a team of assassins to Europe and many other countries to go and hunt to kill Mr. Muyongo and his UDP leadership. We believe that these are issues that people needs to debate on seriously if we all need to find a logical and lasting solution to the Caprivi Strip case.

Just as the professor mentioned that the people of the Caprivi never mentioned about the Caprivi Strip's independence in 1989, it also goes without saying that the people of South West Africa under SWAPO never mentioned anything about the merger in 1989, which makes it appropriate and conducive enough for people to debate and resolve it this time around when Caprivians are out fighting for freedom and independence of their motherland, the Caprivi Strip. We believe that a United Nation organized referendum is the only tool that brings the two to a state of equilibrium, an action that will foster a logical and lasting solution to the Caprivi Strip case.

UDP, Bulela sicaba sa utwa!!!!

Chrispin Mutoiwa

UDP, Secretary for Information

Mutcrio@yahoo.com

Source: United Democratic Party (UDP)
Support Caprivi Freedom
Fill out the form below to become a member of this site and receive our regular newsletter.