News and Information
---
WHAT HAVE THE CAPRIVIAN NATION DONE TO DESERVE THESE HARSH AND DEGRADING TREATMENT.
October 25, 2011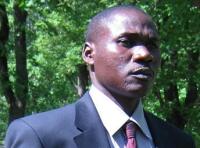 Fighting for our freedom is not a crime. We Caprivians have all what it requires to stand up tooth and nails to fight for our freedom under the leadership of the United Democratic Party(U.D.P); which is lead by a visionary leader Mr. Mishake Muyongo and his captains. Believe me you that Mr. Mishake Muyongo, has never at one given time stood for his personal interest. But, he continues to fight for the interest of the entire Caprivian nation-the Caprivi Zipfel.

For your information Mr. Muyongo is not leading a tribal struggle, but a national one, for all corners of Caprivi. You people don't be misled by those who mustered in divide and rule tactics. Tribalism is not a good reason to refuse us freedom. Almost every given state has it and it's regarded as theirs not outsiders, like what Namibia is up to now in the Caprivi.

Caprivians' fight for freedom is in line with the exact history of that land. Above all, the African charter on human and people's rights tells it all. Adopted June 26, 1981 in Nairobi (Kenya), entered into force in October 26, 1986. In accordance with article 63 part 1, rights, and duties. Chapter 1, human and people's rights article 2; I quote "every individual shall be entitled to the enjoyment of the rights and freedom recognized and guaranteed in the present charter without distinction of any kind such as race, ethnic groups, color, sex, language, religion, and political or any other opinion, national and social origin, fortune, birth or other status" Note! Caprivian nationals are also human being and have rights too, the fore mentioned Charter caters for them (us).

The Namibian government has kept our heroes in prisons for no good reasons. Why tormenting the humble minds of the Caprivi nation in prison for 12 years now? Why killing us? Every sun rise our land in Caprivi is either sold or taken away from us and given in the hands of the so called first grade human or the better who are said to have all the earthly and heavenly rights to all.

Namibia is to day rewriting our geography and history. Question; who gave them that right to distort our beautiful history and geography, and miss lead the world at large? We Caprivians will never concede to that divisive history, rather will we confute it.

Our people are dying like no body's business in Namibia prisons from poisoning and from the long inflicted torture injuries. However, their blood waters our freedom; and I think the killings should have stopped already. But surprisingly it does not seem to be ENOUGH for the brute force of Namibia. They still continue to campaign the Botswana government to repatriate Caprivians to go kill them and make them surfer even more.

Paramount in their clandestine moves is to go and assassinate Mr. Mishake Muyongo and Chief Bornface Bebi Mamili, why? The African charter on human and people's rights, article 12 says; I quote" every individual(Mishake Muyongo/Bornface Bebi Mamili) shall have right , when persecuted, to seek and obtain asylum in other countries (Denmark,Botswana,America, Sweden, Canada, Australia) in accordance with the laws of those countries and international conventions. Ah! Why following Muyongo? Caprivi Zipfel is not part of Namibia; jump the highest you wish, Caprivi Zipfel is ours, therefore just sharpen your spears because our struggle will escalate on your doorsteps.

That clandestine move to kill our leaders is likely to cost Namibia's tax payers and it's a taboo within its ranks. Using tax payers' money to fly a number of terrorists and counselors from Caprivi, who were voted in by few hard core supporters is not only a mistake, but a crime against humanity. Mr. Mishake Muyongo did not kill anybody, but it's you Swapo who killed many Caprivians now and then in exile; for example Mr. Greenwell Matongo, to mention but a few. What are you afraid of if Caprivi is yours, just rest and wait!

Destiny is not a matter of chance, it is a matter of choice; it's not something to be waited for , rather something to be achieved. Mr. Mishake Muyongo, Chief Bornface Bebi Mamil, and the Caprivi nationals are not wrong to stand up and fight for what belongs to them. We should not be killed for that; Caprivi is ours come what may. Leaders of this page, allow me to quote from article 20 of the African charter on human rights: 20: (a) All people (Caprivians inclusive) shall have the right to existence; 20 (b) They shall have the unquestionable and inalienable right to self-determination; 20: (c) They shall freely determine their political status and shall pursue their economic and social development according to the policy they have freely chosen. Precisely, what we are doing as Caprivians! 20: (d) Colonized/oppressed people (Caprivian nationals inclusive) shall have the right to free themselves from the bonds of domination by resorting to any means recognized by the International norms.

Caprivians are as well colonized and oppressed. The Namibian government must be aware that in every plan made against our leaders, irrespective of its nature we always have someone there to tip us, a situation you will never ever avoid. In that clandestine move in your pipe line we have some ears and eyes, in every two we have one, in every five we have three, in 10 we have 7. Note! Europe has enough and they are not likely to import the waist criminals from Namibia and South Africa. Komusa utwi, Lwa utwa!

CAPRIVI OUR SACRED LAND: We as a people in that land we consider land as a vital source of living. For someone to authorize the selling of our land is in itself an act equal to crime committed against humanity. As for you buyers, consult your conscious, am I buying from the rightful owners? If not, what is the end result? Remember the struggling people of the Caprivi are just some few meters to reclaim their beautiful land. It is never wise to sell or buy land when people are struggling for it.

To all the Caprivi nationals, note that a porcupine has thorns to defend itself from dangers! What do you have to defend your land (Caprivi Zipfel)? Time is now, it's never too late to join hands and summon some brave hearts to fight and liberate your selves from a black colonization. We have all the tools to use in this struggle. The choice is yours about what your contribution to the common good is in order to liberate the Caprivi Zipfel. It is about time to make history in your lives, have something attached to your name, denying your nationality as a Caprivian is not worthwhile. Contribute to the struggle for all. Stand up and do it now, it's not strange for us Caprivians to fight for Independence, after all our history says it all. When we fight, we fight in line with our history.

Caution! We must work tirelessly with the power of visionary, by creating picture of the end product (Independence), by doing so we create the energy to move closer towards it. Let's put important things first by making sure that we do not neglect peoples' freedoms that are important, simply because we are consumed by petty subjects like (tribalism).

Lastly we must think win- win, this involves the positive practice of Independency-understanding and behaving out of belief that we don't have to succeed at the expense of others, that together, by joining forces we can achieve our goal.

Through the art of Communication, "We" must seek-first to understand, then to be understood. This is a common habit and it teaches us to respect, listen patiently and with empathy to our leaders.

U.D.P Bulela sicaba sa utwa.

Claassen John Kawana.

United Democratic Party Youth (UDPYL)

Secretary Education


Source: United Democratic Party (UDPYL)
Support Caprivi Freedom
Fill out the form below to become a member of this site and receive our regular newsletter.