News and Information
---
South Africa: Michelle Obama Urges Young Africans to Meet Shared Challenges
June 22, 2011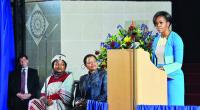 United d States Department of State (Washington, DC)

South Africa: Michelle Obama Urges Young Africans to Meet Shared Challenges

Mackenzie C. Babb

22 June 2011

Washington — In Soweto, South Africa, first lady Michelle Obama urged young African leaders to combat hunger, fight to end HIV/AIDS and take a stand for women's rights.

"You can be the generation that brings opportunity and prosperity to forgotten corners of the world and banishes hunger from this continent forever. You can be the generation that ends HIV/AIDS in our time -- the generation that fights not just the disease, but the stigma of the disease, the generation that teaches the world that HIV is fully preventable and treatable, and should never be a source of shame," Obama said June 22 during her keynote address to the U.S.-sponsored Young African Women Leaders Forum, held in a crowded church.

The two-day workshop and conference in South Africa brings together 76 young women from across the continent who have led social and economic initiatives in their countries, according to a June 21 White House note.

The participants, who range in age from 16 to 30, are exploring "opportunities in education, entrepreneurship and health to empower young women as leaders of social, economic and political development on the continent," the White House said.

The first lady commended the young women for their "sense of interconnectedness," compassion and "determination to act in the face of impossible odds."

Obama called on the young leaders to help ensure girls everywhere are afforded their right to an education and that women are "no longer second-class citizens."

She also spoke out against violence against women, condemning it as not just a violation of women's rights, but as a human rights violation that "has no place in any society."

The first lady urged the young people to hold their countries' leaders accountable for an open, honest government that stamps out corruption and protects the rights of all of its citizens "to speak freely, to worship openly [and] to love whomever they choose."

She said Africa is a "fundamental part of our interconnected world," and that her husband's administration is partnering with Africans to face global challenges such as creating jobs, promoting democracy and development and confronting climate change, extremism, poverty and disease.

The world is looking to young Africans to lead the way, she said, noting that people under age 25 make up 60 percent of the continent's population.

The first lady spoke in the renowned Regina Mundi Church, which played a significant role in South Africa's movement against apartheid, the country's now-abolished system of racial separation.

She was introduced by Graça Machel, wife of former South African President Nelson Mandela.

Michelle Obama and daughters Malia and Sasha -- along with Obama's mother, Marian Robinson, and niece and nephew, Leslie and Avery Robinson -- met Mandela in his home June 21.

The first lady also met with Nompumelelo Ntuli-Zuma, wife of South African President Jacob Zuma, visited with schoolchildren and toured national museums since her arrival in South Africa June 21.

Obama plans to speak to students at the University of Cape Town June 23, and then travel the following day to Gaborone, Botswana, where she will meet with President Ian Khama and visit a children's clinic.

She is scheduled to return to Washington June 26.
Source: www.allafrica.com
http://allafrica.com/stories/201106230127.html
Support Caprivi Freedom
Fill out the form below to become a member of this site and receive our regular newsletter.