News and Information
---
Bullet Attack Survivor Cries Out
March 23, 2011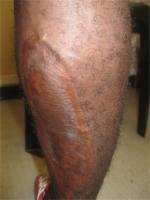 Today 2011-03-23

Mr.Nyambe alleged to Caprivi Vision that he was shot on his Left leg by the Namibian Police OfficersBy Simon Liseli

A MAN who has been living with a bullet in his leg for the past 11 years, who was left dead during the shootings on August 2, 1999 in Katima Mulilo is seeking for help from government.

A 39 - years - old-man, Mr. Simataa Nyambe was shot by unknown men who were at NBC silozi Radio Station in Katima Mulilo on 2 August 1999, when the Caprivi Liberation Army launched an attack to secede the Caprivi Region from the rest of Namibia.

Mr.Nyambe alleged to Caprivi Vision that he was shot on his Left leg by the Namibian Police Officers who were at the Radio Station (NBC) when he was riding his bicycle in the morning hour of the August 2, from work in Hage Geingop Road the main street that stretch the town centre of Katima Mulilo.

"I was a Security Guard at the time when I was shot down, I was coming from work riding my bicycle, I just find myself laid down, I do not know what happened exactly and I was quickly taken to Katima Mulilo State Hospital by Mr. Evans Simasiku in an Isuzu pick-up for NAMPOL," remembers Mr. Nyambe

Mr.Nyambe did not spend many days because there was no Medical Doctors and they transferred him to Katutura Hospital in Windhoek where he got his treatments, "I was in the hands of Dr.Checker Skin who managed to take out two (2) bullet necklace from my leg and the other one is still with me, he failed to take it out as it was far in my bones and it is affecting me now," explained Mr.Nyambe

The survivor, Mr.Nyambe is asking for the government of the Republic of Namibia to help him even with the grant (Disability Pension) which others are receiving monthly, as he cannot do any work, which he used to do before he was shot in 1999.

"The government should look at me, I am now still having a bullet in my leg and I'm unable to work due to that problem, I have five (5) kids and my Wife are all looking for support from me, now I don't know how I will support them, I got the job at Kamunu Mills in previous years but I failed to work because I was always absent due to my leg, I 'm living a very difficult life, I'm failing even to plough." he stressed

He said, he cannot remember very well who shot him that day and is appealing for a disability pension grant from the government in order to sustain the life of his family and himself. "At the moment I cannot do some work where I can get money so that I can feed my family, since I was shot by the police who were at NBC on that morning and I didn't know what was happening," he said

When Nyambe was discharged from Katutura Hospital in Windhoek, He decided to go to the Katima Mulilo Police Station as he was informed by other colleagues of him that all people who were shot were needed to report at the police charge office where he met Mr.Simasiku the Detective Warrant Officer of the High Treason Unit who just advised him to take his case to the Office of the Ombudsman in Windhoek for help.

"I sent a letter to the office of the Ombudsman in September 2009 and they answered me saying I should give them the back ground of my injury and how it happened and also to identify the officer who was responsible about my incident," he lamented

Poor Mr. Nyambe took the same issue to the Legal Assistance Centre in 2008 seeking for a help but he was not even answered, "I took this issue again to the Legal Assistance Centre but they haven't yet answered me up to now and I have waited for so long but nothing is showing, I am now just suffering with my family at least if the Government can do something to my side that can sustain me and my family I could not worry," he requested.

His answer from the Office of the Ombudsman for the claim against the bullet injury read as follows:

"The office of the Ombudsman acknowledges receipt of your letter dated 21 September 2009, pertaining to the above-mentioned subject. Having assessed your complaint, we must submit to you that, before the office starts with any enquiry, kindly give the background of how you were injured and against who you want to put the claim of reparation for the injuries you sustained. We trust that we will receive the response soonest." Read the letter

The Caprivi Vision contacted Mr. Erastus Mwanyangapo, Chief Investigator in the Office of the Ombudsman who wrote the letter for enquiries to hear how far they have gone with the investigation of this case and he told this publication that he cannot say anything to the newspaper only to the complainant (Mr. Nyambe) himself.

"I will not tell you anything about that case because I do not have power to give anything to the newspaper, I can only tell the complainant himself once he wants to know anything about his complaint if forwarded to us not the newspaper. Why did he go to the newspaper instead of consulting our office himself to hear how far his case was," explained Mr. Mwanyangapo when he was contacted for feedback.

The Caprivi Vision also contacted Mr. Evans Simasiku to give his comment, as he is the one who helped Mr. Nyambe by taking him to the hospital who refused to comment.
"I have no comment on that issue and I can't remember the man because I attended to many people on August 2, 1999 and everyone knows that there was a war in Caprivi on that day so I have nothing to comment on "He requested.

When contacted for comments to hear the legality of the case, Ms. Linda Chicalu, Senior Coordinator for Legal Assistance Centre in Windhoek told Caprivi Vision that she did not see any letter from Mr. Nyambe.

"I didn't receive a letter from him (Nyambe) and at this moment there is nothing we can do on that case since he was shot in 1999 it has taken so long, we normally work on cases if it has taken one year not after three years. I think the case has been already prescribed since it happened in 1999 ,Legal Assistance Centre cannot help at the moment what I can advice him is to go to the police and lay a case if he will win it then he will get a help," said Ms. Chicalu.

Asked whether their office have received similar cases from people within the country, "Its quiet a number of them and we used to help them when it comes on time and I can't tell you now how many of them because they are a lot that we have solved so far," she revealed.

Caprivi Vision also contacted the Police spokesperson, Chief Inspector Angula Amulungu on the same case and he told this paper that he could not say anything on the case, as he is not mandated to say something on those cases.

"I have no mandate to say anything on that case and it's out of my way, get the magistrate in the area and ask him or her about that case with me nothing I can say on it," he said
This paper also carried a story last year in a similar incidence where members of the security forces shot an Angolan Refugee (Mr. Domingo Jaimane) on his right leg on August 2, 1999.

Earlier last year former NAMPOL Spokesman, Deputy Commissioner Hophni Hamufungu told this paper that: "The police do not deal with people's complaints in the streets. The complainant should report his/her case to the court of law and if it is given that go ahead and wins the case then we will compensate them, and it will never take us a long time to process the case for the compensation as long as the course of law has been followed," said Former Deputy Commissioner Hamufungu.

"If he takes the Inspector General Office to the court of law, and he wins, then our offices will be ready to compensate him and it will never take us less than three weeks for him to get his dues. We are equally a law enforcement agency which is not above the law and we can be sued by citizens," he concluded.

Source: www.caprivivision.com
http://www.caprivivision.com/article.php?articleID=ohf2sz74
Support Caprivi Freedom
Fill out the form below to become a member of this site and receive our regular newsletter.