News and Information
---
Kalimbeza Rice Project needs govt injection
March 23, 2011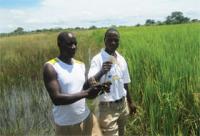 Today 2011-03-23

Mr. Chanda a worker shows some grains of Rice to Simon Liseli ( Right) of the Caprivi VisionSTAFF REPORTER

LACK of working machineries still derail Namibia's own national project, "Kalimbeza Rice Project" in the eastern Caprivi to meet its production time line.
Funds are urgently needed to purchase mostly used equipment, such as a rice sorter and a mill that are linked in the final production , as harvesting of the rice is only stockpiled due to unavailability of proper machinery .

The project was first realised before Namibia's independence in 1987 by the then Ministry of Agriculture during the colonial government (Government of National Unity) but never took off the ground.
A one Hundred and Ninety Three Hectares (193 hectares) Rice project at

Kalimbeza was re-established in 2001 with the aim of producing rice to feed the people of the Caprivi region and Namibian nation at large, the project is found at some 40 Kilometers East of the Katima Mulilo town and since 2001 when it was established it has been producing rice for local people ,Oshakati and Windhoek.

The project was initiated by former Namibian President Dr. Sam Nujoma who is the Chancellor of the University of Namibia in 1999 in conjunction with the Ministry of Agriculture.

Mr. Patrick Kompeli, Chief Agricultural Reseacher in the Ministry of Agriculture in the Caprivi Region who received extensive training in Japan in 2005 now responsible for Kalimbeza rice research station told the Caprivi Vision when caught up for interview, The project was again started in 2001with the cultivation of 15 hectares of the land and seven farmers were re-settled by the project.

From 2001 – 04 they were busy with cultivations and there after all activities were stopped until 2007 when the University of Namibia (UNAM) joined them and four hectares was planted that was harvested in 2008 and it contained varieties of seeds that was planted and these were Super and Angola from Zambia and the other variety from Zimbabwe.

In 2009 when Dr. Nujoma visited the project, 25 hectares of the project land was planted and about five tons of super rice was harvested and sold in the town of Katima Mulilo and some were taken to Oshakati for sale and it was sold at N$5.00 per kg.

"The rice we plough differs from period it takes four months and some (6) months, prices also differs, there is for N$2.50 and the other one is N$5.00 per kg," said Mr.Kompeli
Asked whether flood have any negative impact on the rice when it's flooded Mr.Kompeli said "No! there is nothing that happens to it because it grows well in water and when its flood, it grabs a good opportunity to grow as it needs to stand in water all the time, its not like maize that dies when there is flood, that is good about rice," he recommended

Currently , the Kalimbeza rice project have fourteen (14) permanent government workers and casual workers used to be hired when there is work about 50 – 100 casuals are always hired and that depend s on the activities that is taking place in the project. These casual workers used to help in planting the rice and harvesting as things are still being done manually (Labour Intensive) because they do not have enough equipment to use and rice need to be harvested within two weeks when it is ready.

"Our activities start in June each year with the preparation of land and from July to August is the time to plough and that is when flood drops down because we cannot plant when there is still some flood waters, during cultivation we use hand tractors that were donated to the project by the University of Namibia and Embassy of Indonesia in Namibia last year and before planting, our rice is planted in a nursery where it takes about four weeks before it is ready for planting," he explained

Asked what challenges are faced by the project, Mr. Kompeli said when it started in 2001 there was not enough implements for use as the rice requires special implements to make the work easier and the other problem is for the seeds that are bought from outside the country as they are very expensive.

"When we buy those seeds we are not sure whether they can grow into our soil so we have to carry out some research and experiment to see if it grows into our soil and how long does it take to germinate and also the period it takes for it to be ready for harvesting, so far we have noted that Super and Illegal seeds they do well into our weather," Komperi said

When asked to share ideas with others why are they still experimenting after some years, "It's a pilot project to see whether rice can do well in our country and it depends on the type of the soil and weather so that research can take up to seven years and we are doing that in collaboration with the University of Namibia," he lamented.

The Ministry of Agriculture Water and Forestry have allocated some funds for the project in the 2011/2012 budget that will be used to purchase some equipment for the project, building of the project offices and houses for the workers and other staffs that will be needed.

Mr. Kompeli is calling on farmers interested living in the flood plains of the Caprivi who want to engage themselves in rice farming to visit the project and get seeds for free of charge, "If they don't have knowledge on farming rice I can still teach them how to grow it, most of the areas where they use to plough maize is suitable for rice as it cannot die during flood. I have knowledge and skills on how to grow rice that I gained in Japan in 2005 where I spent seven months learning how to grow it," he furthered.

The project is struggling in pounding Rice with the old mill which was left by the old SWA/ Namibia Government and a lot of work is still being done by people instead of machinery.
The current experimental rice project is been cultivated in nine ( 9) hectares .

Source: www.caprivivision.com
http://www.caprivivision.com/article.php?articleID=p58bip5r
Support Caprivi Freedom
Fill out the form below to become a member of this site and receive our regular newsletter.