News and Information
---
Woman asks for two missing corpses at Katima Mortuary
January 4, 2011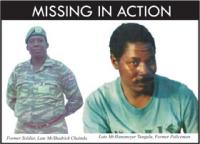 Today 2011-01-04

Missing CLA members, Mr. Chaind and Mr. Tungulu

By Risco Lumamezi

ALMOST Ten years ago after the State of Emergency was lifted by former Namibian President Dr. Sam Nujoma in August 1999, following massive attacks by a rebel group led by former president of the official opposition party (DTA )Mr.Mishake Muyongo who claims to secceed the Caprivi Region from Namibia.

After being silent for more than ten years , this poor widow and sister of one of the two men "members of the Caprivi Liberation Army" who were killed during the battle on September 3, 1999 at Mabumbu village south of the Caprivi Region, is requesting the government of the Republic of Namibia to locate their corpses.
Ms.Frieda Tungulu has alleged to Caprivi Vision that Mr.Hansmeyer Tungulu her late brother and Mr.Shadrick Chainda her husband were brutally killed by cutting their throats and plucking their eyes with a knife after several shots of the bullets of a machine gun all over their bodies before they were taken to the Katima Mulilo State mortuary.
"That was a brutal killing I'm telling you, on the 14th of September 1999 I went to Mpacha Military Base and I asked Captain Mwilima to give me the corpses of my late husband and my brother". She said

''After the battle we were forced to sit on the corpses when they were brought to the mortuary, If they were buried then we need to know, if they burnt them they should tell us the place where they burnt them",She added.

The question that still remain is "who signed for the removal of their bodies, they should tell me, I cant sleep anymore I'm suffering from sugar diabetes, we were forced to sit on the corpse but now when it comes to funeral we are not told".quashed Tungulu

"How can the corpse disappear from the mortuary?, is it impossible since it has never happened…, they must tell the truth of God, I know the height of my late brother and my husband they should take me where they buried them I want to burry them properly"
Shortly after the disapperence of these two corpses at Katima Mulilo State Mortuary a complaint was launched to the hospital Matron late Mr.Philemon Simasiku."He told me that he cannot answer me on that"Tungulu said.

She continued saying "Since 14 September 1999 when I went to captain Henry Mwilima at Mpacha Military base, he promised me that he will give me the corpses''.
"I went to New Era , NSHR and Namibian Newspaper but no answer, my mother and my late brother were whipped after the battle"
Frieda speaks out!

The corpse that went missing in September 1999 was not recovered up to day, Fredah Tungulu who spoke to the Caprivi Vision said her husband and her brother were killed by the Namibian Defence Force on September 3, 1999 and their corpse were brought to Katima Mulilo state mortuary.
Her husband's pension was claimed and paid to his other wife he married in community of properties and Ms Tungulu did not benefit anything from the pension and her brother's pension nothing have been paid yet but she have claimed it.

"I have two daughters which my late husband left with me, one completed Grade 12 and the other is still at school and my brother also left three daughters, one is in Grade 12 and others in Grade 10 and they are now all looking to me for support, the salary am paid is very less as a cleaner and it cant carter for them all,why cant they give me even the pension? I went to the governor's office twice seeking for help and he told me to wait because he was still meeting others and up to now I am still waiting, am not yet answered," she stressed

Frieda is asking the state to show her the graves of her husband and her brother, "My daughters are not giving me time they are troubling me, yes they know that their father was killed but the question they can't understand is where their father was buried and who was there? My self I don't know where they took them but when they were killing them I was there and I was forced to sit on my husband's dead body when they brought them to the mortuary," she explained

Frieda wants to know who signed for the corpses when they were taken out from the mortuary as the hospital have some registers where they record everything that take place at the hospital.

"If they were burned I want to be shown where they burned them, I will pick even the sand from there and burry it my self," she furtherd
However, Namibia's National Society for Human Rights 's Executive Director Mr. Phil ya Nangoloh confirmed to The Caprivi Vision that the case was reported to his organization and they have forwarded a letter to the Ministry of Safety and Security .

" I am coming to them(families) before the end of the year, 2010" said Mr. ya Nangoloh
The case has never been in court and the family members of the deceased are worried that it is almost 10 years since their missing bodies were taken out of the state mortuary by unknown people.

According to the Human Rights Defender Mr. Ya Nangoloh, " the person ( Captain Henry Mwilima ) accussed is dead, if they want us to go ahead then , Captain Mwilima was doing it on behalf of somebody ( govt) " he said.

In an effort to get the legality of the case, the Caprivi Vision spoke to the Attorney General and Minister of Presidential Affairs, Dr. Albert Kawana who referred this reporter to the Minister of Health and Social Services." just check with the honourable Dr.Kamwi he is just there, am hearing this issue from you I don't have facts to establish whether its true or not " quashed Dr. Kawana

Asked to comment on the missing bodies at Katima State mortuary , current Health Minister Dr.Richard Kamwi responded to Caprivi Vision that since the incident happened in 1999 when he was not yet appointed as the Minister of Health and Social Services.
"What I can say is that I have no knowledge of that" said Dr. Kamwi.
Source: www.caprivivision.com
http://www.caprivivision.com/article.php?articleID=4763ynbc
Support Caprivi Freedom
Fill out the form below to become a member of this site and receive our regular newsletter.