News and Information
---
NEW YEAR MESSAGE - 2010
December 31, 2009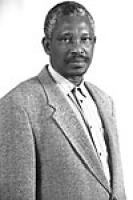 NEW YEAR MESSAGE - 2010

01/01/2010

Countrymen and Women.

Once again, we have to say good-bye to the outgoing year with mixed feelings and emotions. The yesterday year was not very good for our people and the struggle. We lost some of our determined freedom fighters, we shall always remember them for their contribution to the liberation of our motherland "the Caprivi Strip."

Fellow countrymen and women, wherever you are and whatever you are doing at home, in the refuge camp and exile remember one very important thing that "the Caprivi Strip" your motherland is occupied by foreign forces. Who are having nothing to do in the Caprivi Strip, but deny you your right to be free and independent. Caprivians are supposed to walk tall and elegant in their land, but you are stooping down due to the heavy hand of occupation and colonialism.

Fellow Caprivians, we are not the only people who have walked this winding road to freedom, many before us have done so, and through share determination and dedication, they managed to cross the troubled waters and reached the other side of the river where there is peace, freedom and independence.

Eritrea was once occupied by Ethiopia, but through their determination and dedication for freedom, and independence and will to shake off the forces of occupation through had struggle, today Eritrea is an independent country.

Southern Sudanese, have been struggling for many years against the regime in the north of Sudan. Today after many sacrifices, the people of Southern Sudan are on the verge of total freedom and independence. Compatriots, there are many examples that can be mentioned, what is important is to have the courage and resolve that we are our own liberators and that outside help should strengthen us and make us more determined. It is us who should show the outsiders the road to the Caprivi Strip.

Once again, we should address the issue of unity amongst the people of the Caprivi at home and everywhere. We should not allow the enemy forces to create disunity amongst us, or use some of us saw the seeds of disunity and tribalism.

One thing again that needs to be discussed is the problem of us as Caprivians not taking the trouble to learn and understand our history and its culture. The world out there wants to know about the Caprivi and its people, and there is no best teacher other than the Caprivians.

We are appealing to all Caprivians wherever you are to take the trouble to find out about the Caprivi, its history and culture as well as its borders. Caprivians should educate those who need to know about our history, culture, language, geography etc.

When young people write things about the Caprivi and its people in a manner that shows misunderstanding of the history of a country, makes one to wonder as to why at this time of the century that we still have people who refuse to accept their identity and wants to mask themselves in foreign identity.

I was puzzled to read that some Caprivians have begun to be lukewarm from being known as Caprivians. It is our belief that people who are now scared of being Caprivians are simply foreigners who have just jumped on the bandwagon of the occupiers. It must be those people who were recently imported to the Caprivi, and given Caprivian identity.

To all Caprivians, you recently took part in the selection, as you lined up to select deep in your minds, what were you saying to yourselves? What is in for you as Caprivians in the Namibian selection? You join the selection in order to add to your misery and oppression.

To conclude, let every Caprivian bring his or her side one way or the other for the liberation of our Motherland.

People are beginning to want to help us, but first we have to set the pace ourselves as Caprivians, help is about us helping ourselves as the people who have to be free and independent. We are getting into the New Year with our sorrows and broken hearts. We have lost some of our colleagues at the hands of the occupying regime.

We are afraid as to what is in store for our remaining colleagues still in prison. How many will be poisoned this year? The occupying regime is run by political murders.

We wish every Caprivian wherever you are, and whatever you are doing a very happy and prosperous New Year 2010. We have not yet reached our destination, so we should be vigilant and determined in our resolves and united for the purposes of liberating ourselves.

May the Almighty God bless the Caprivi and its people!

Thank you,

MISHAKE MUYONGO

President of United Democratic Party (UDP)-

(United voice for Total Freedom and Independence of the Caprivi Strip)

UDP – Bulela Sicaba Sa Utwa!

Source: www.caprivifreedom.com
Support Caprivi Freedom
Fill out the form below to become a member of this site and receive our regular newsletter.