News and Information
---
Caprivi case lawyers get more from Govt
September 27, 2009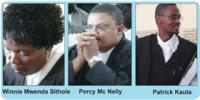 Caprivi case lawyers get more from Govt

Caprivi Case Lawyers , Mrs.Winnie Sithole Mwenda ,Mr. Percey McNally and Mr. Patrick Kauta
By Clemence Tashaya (Caprivi Vision Correspondent in Windhoek)

THREE lawyers representing 117 men accused in seceding Caprivi from Namibia have received an increase of about N$17500 each every month after Mrs. Winnie Sithole Mwenda a foreign Zambian lawyer have occupied a new post in the government of Zambia.

Director of Legal Aid in the ministry of Justice, Mr. Vero Mbahuruua, unanimously awarded the client (detained Caprivians) of the former legal representative, Mrs.Mwenda, to three specific lawyers.

Mr.Mbahuruua did not only decide to allocate those clients with specific legal practitioners but he also presented those lawyers with a firm additional reward of N$17,500 offered to each of the respective three lawyers.

Soon after he received the notice of withdrawal from Mrs. Mwenda, he selectively called on some of defense counsel to their views. The Counsel expressed different positions and views due to the fact that they were all caught off guard as to Mwenda's withdrawal.

Mr. Patrick Kauta in consultation with the Director of Legal Aid suggested that a selection group of the defense team should take over her clients and asked that Mrs. Mwenda's remuneration be split among three of the defense team. It has been agreed between the Ministry of Justice that Mr. Victor Katchaka, Mr. Kauta and Mr. Percy McNally that they would each be paid an additional sum of N$17, 500 monthly.

The decision to reward the three was apparently made without any consultation with or knowledge of the rest of the legal team and became a point of contention which gave rise to a meeting being called between the Director of Legal Aid and the remaining defense team.

According to reliable and impeccable sources, the parties were concerned that a decision had been taken to reward three of their members with some extra money for taking over the clients of Mrs.Mwenda and the Director of Legal Aid was informed. It is also believed that when the Director convened a meeting of all the practitioners at the Defense Counsel's office, they developed an inherently hostile and non-conducive atmosphere.

Those present were overwhelmed by the Director's response to what has been said and everyone was convinced that the exercise was a waste of time. Consequently, the lawyers specifically declined to speak of the discontent stating that the atmosphere was not conducive to any meaningful discussions, but instead, the Director of Legal Aid insisted that they should layout the basis of their complaint, which they then did.

Director Mbahuruua, then in turn intimidated them, telling them that they could not see the basis of their complaint because it was driven by "jealousy".

"I have made up my mind," he said.

The lawyer reiterated that he should be prepared to accept the consequences of his statement, to which he retorted that he knew what was fair and would not be "held at ransom".

The meeting dispersed and all proceeded to the court.
In an attempt to solve this matter on the same day, Mr. Jonathan Samkange a professional Zimbabwean lawyer, Kruger Duke and Mr. Nyoni another Zimbabwean lawyer representing Caprivians agreed to meet for a further discussion. They agreed that the approach of solving the distribution of Mrs. Mwenda's clients and the reward attached to it was ill conceived. Mr. Jonathan Samkange and Mr. Kruger then offered to take over the client taken by Mr.Kauta and Mr. McNally. Mrs. Mwenda's fee was to be shared equally among the lawyers to achieve equity and to promote team spirit of the Defense team and the proposal was put to the Director in writing.

The Permanent Secretary of the ministry of Justice was further informed about the conflict of interest of the case. In an effort to interview the Permanent Secretary with regards to the government's comment, proved futile as they was no response from this high office by the time of going to press.

Meanwhile, earlier this year, Zambian lawyer Mrs. Winnie Sithole Mwenda relinquished her post as a lawyer representing a group of 124 men facing the prosecution on charges of treason which she started since April 2003.

Six years ago, the number of people remaining on trial before Judge Elton Hoff has now dropped to 117 due to sudden deaths in prison.

In February 2009, Mrs. Mwenda announced to Judge Hoff that she withdrew from representing her 10 clients because of her family responsibilities and has thus been appointed as Permanent Secretary in Zambia's Ministry of Labour. Sithole Mwenda obtained her Doctorate degree in Law from the University of South Africa in 2007, specialised in alternative dispute resolution as the field of study.

If a new defence lawyer has to be brought into the trial, a lengthy postponement of the matter appears to be inevitable. Sofar shortly after Mwenda's withdrawal, the typewritten transcript of proceedings in the trial stood at 27000-page mark. This included the trial record of more than 500 exhibits that have been handed in as evidence in this case. About 341 prosecution witnesses have so far testified before Judge Hoff in the main part of the trial.
Source: www.caprivivision.com
http://www.caprivivision.com/article.php?articleID=jcy5t8ay
Support Caprivi Freedom
Fill out the form below to become a member of this site and receive our regular newsletter.