News and Information
---
NSHR accuses police of forcing old woman to implicate her son in High Treason
March 25, 2009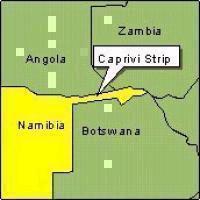 NSHR accuses police of forcing old woman to implicate her son in High Treason

By Risco Lumamezi

The NATIONAL Society for Human Rights (NSHR) has accused two Namibian Police (NamPol) officers attached to the long running Caprivi secessionist trial of allegedly having forced Ms. Minsonzi Kalima (77) to sign a document implicating her son, Albiues Moto Liseli (52) and another person, in the alleged Caprivi secessionist saga.

In a statement forwarded to the Caprivi Vision, the NSHR accused police officers, Warrant Officer Evans Simasiku, and Kavenauue Kombungu of allegedly threatening to deport Ms Kalima and her two daughters, Florence Liseli and Agnes Liseli of Kalumba Village some 15 kilometres south of Katima Mulilo, to neighbouring Botswana between 26 -27 January 2009.

Mr Simasiku and Mr Kombungu, who are connected to the said case featured prominently in the various statements by alleged Caprivi secessionist detainees as having violently forced many other Caprivians to give false testimonies against their relatives in the High Treason trial.

The names of Mr Simasiku and Mr Kombungu are also among the NSHR's list of 40 most notorious police, intelligence and army torturers in the marathon Caprivi separatist trial.

"However, the alleged torturers have yet to face prosecution for the crimes committed against Caprivi detainees."

The NSHR statement says Ms. Kalima's son, Mr Liseli, is accused by the State of having allegedly fled to Botswana in 1999 to escape prosecution as part of a group of 92 alleged Caprivi secessionists.

In 2001, Mr Liseli temporarily returned to the Caprivi and later crossed the border into neighbouring Zambia's Western Province, where he lived as a refugee.

The Statement says that in January 2009, Mr Liseli voluntarily returned to Namibia to live with his family but was soon arrested on suspicion of taking part in the alleged attacks to separate the Caprivi Region from the rest of Namibia.

More than 120 other alleged Caprivi secessionists have been facing trial for the last six years, while at least 13 others have died in Police custody. They are accused of launching armed attacks on Government installations in Katima Mulilo on 2 August 1999.

Mr Liseli's arrest and detention allegedly took place on 6 January 2009. Since then he has appeared twice before a Magistrate's Court, first on January 9 at the Ngoma Border Post and secondly on 2 February 2 at Katima Mulilo.

He appear again before the Katima Mulilo Magistrate's Court on March 4.

"The old woman was forced to sign a statement which she didn't even know what it was all about by Evans Simasiku, despite her being illiterate.

"They even chased away her Grade 12 daughter who wanted to help her mother to read the statement," said Ms. Kalima's relative who spoke to human rights defenders at Katima Mulilo.

The NSHR statement says Warrant Officer Simasiku allegedly forced Ms Kalima to agree that they knew the person who was allegedly killed by a group of 92 alleged secessionists in the Linyanti area, or face deportation to Dukwe Refugee camp in neighbouring Botswana.

"The women were allegedly forced to also sign statements that a certain Sipi used to bring maize meal to Albiues (Moto Liseli) "so that they can go and arrest Sipi at his village in the Musanga area, some six kilometres East of Katima Mulilo".

Meanwhile, the family of the detained Mr Liseli told Caprivi Vision that Mr. Liseli was arrested by the Namibian police after he reported himself to the Katima Mulilo Police Station on 5 January 2009.

They said that Mr Liseli was found in Zambia by Mr Lutambo Lenox Kalima his cousin on the 4 January 2009 when he went to check on his timber in Zambia.

Mr Kalima told the Caprivi Vision that he found Liseli sleeping under a Mungongo tree near the road in Zambia's Katima Mulilo.

"I did not know he was Albiues, I passed him as I rode my by-circle for a distance but I made a u-turn to come and see who was sleeping under that tree and it took me time to identify that he was Moto Albiues.

"I called baAlbiues and he raised his head and answered "shaa". I felt very bad looking at the condition he was in. He looked sick and hungry I asked him where he was living and he said he was living in Zambia at Mbume in Silowana area, in the Western Province of Zambia.

Mr Kalima said he asked Mr Liseli when he came to Zambia and his reply was he went there in 2001 but life was too difficult for him and he came to Zambia's Katima Mulilo for piece work which he could not find because he was sick.

He said Mr Liseli told him that he wanted even to come back home as he was sick and had "no power".

Mr Kalima said that he directed him to return to his village in Chefuzwe via the same route that he used when he went to Zambia and he would take him to the police station as he was too sick a person to be penalised.

Mr Liseli did what he was advised and on the night of 4 January 2009 he arrived at Mr Kalima's house and the next morning Mr Kalima took him to the Katima Police Station. Before getting to the police station, Mr Liseli is said to have passed at the Red Cross in Katima and explained his situation there and how he went to Botswana.

He was told that they could not solve his problem and that it was better to report himself to the police.

At the Police Station, Mr Liseli is said to have explained where and when he was born, how he left Namibia for Botswana and how he travelled to Zambia.

The NSHR statement says that he told Police that he was born in 1957 in July, and that he first travelled to Botswana where he escaped and returned to the Caprivi Region briefly before travelled to Zambia.

He said the reason why he fled Botswana was because police there had said that they had found his name on the list of 92-people who were accused of having fired shots on 2 August 1999, when some Caprivians tried to secede the Region from the rest of Namibia.

Mr Liseli is said to have told the police that he escaped to Botswana in 1999 and lived there up to 2001 when he ran away to Zambia and he lived in Zambia till 4 January 2009 when he returned to his village.

Mr Liseli's relatives say he was arrested on 6 January 2009 and made his appearance in the Katima Mulilo Magistrate Court on January 9. Although his case was transferred to Windhoek where he was to appear in court on 2 February 2009, it turned out that he was not transferred to Windhoek and so he ended up making another appearance on February 4 and March 4, 2009

His case was postponed to 29 April 2009 by Magistrate Rachel Sakala of Katima Mulilo District Court for further investigations.

Source: www.Caprivi Vision.com
Support Caprivi Freedom
Fill out the form below to become a member of this site and receive our regular newsletter.