News and Information
---
Treason trial back on track
October 8, 2008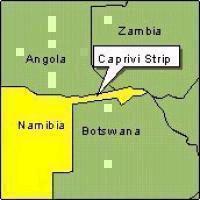 Treason trial back on track

WERNER MENGES

THE threat of a possible withdrawal of more than half the defence team from the main Caprivi high treason trial lifted at the start of this week.

A week after a pay dispute with the Directorate of Legal Aid resulted in five of the nine defence lawyers in the trial failing to appear before Judge Elton Hoff in the High Court building at Windhoek Central Prison, the five lawyers were back at their posts on Monday.

Because of a dispute between the Directorate of Legal Aid and the five defence counsel - three of whom are Zimbabwean nationals, with the other two from Zambia - the trial before Judge Hoff could not continue last week, while the lawyers and Justice Ministry officials were in talks in an effort to sort out the dispute.

One of the lawyers, Greyson Nyoni, reported to Judge Hoff on Monday that the issue had been "partly resolved", although he and his colleagues still need to have a meeting with the Justice Minister.

Nyoni said the lawyers were "comfortable" with the way the matter had been resolved so far.

The Director of Legal Aid, Vero Mbahuurua, told The Namibian late last week that an agreement had been reached with the five defence lawyers that would now see all defence counsel involved in the trial receive the same pay.

At the root of the dispute was the fact that the Directorate of Legal Aid has been paying the four Namibian defence lawyers involved in the trial higher monthly fees than their non-Namibian colleagues since the team of defence counsel was instructed in April 2003 to represent the people being prosecuted in the trial.

Nyoni indicated to Judge Hoff last week that the issue had led to dissatisfaction on the part of the non-Namibian defence counsel for some time, until a point was reached where the five lawyers felt they could not continue to carry out their duties in the trial unless the issue had been dealt with and resolved.

If it could not be solved, it was indicated to the court, the non-Namibian lawyers might have decided to withdraw from the trial.

In a trial of which the main part started in August 2004, with more than 330 witnesses having testified in the main part of the trial so far and the trial record close to 26 000 typewritten pages, a withdrawal of defence counsel would have forced an extended postponement to get replacement counsel instructed and prepared to take over the representation of some of the 117 accused still on trial.

With that threat averted, the prosecution continued presenting more evidence from Monday.



Source: www.namibian.com.na
http://www.namibian.com.na/
Support Caprivi Freedom
Fill out the form below to become a member of this site and receive our regular newsletter.