News and Information
---
Treason witnesses' trial set to continue June '09
October 6, 2008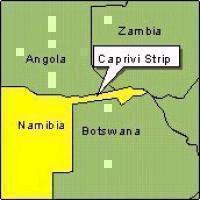 Treason witnesses' trial set to continue June '09

WERNER MENGES

THE trial of two village elders from the Caprivi Region who are being prosecuted for failing to give the testimony that was expected of them in the main Caprivi high treason trial was postponed until June next year after it proceeded for three days in the Windhoek Regional Court last week.

By the time Gabriel Matengu Sakutiya (66) and Harrison Muleta Kwala (70) return to court for the continuation of their trial before Magistrate Sarel Jacobs, almost three years will have passed since their arrest in late July 2006.

Sakutiya and Kwala, who are both from villages in the Imukusi area some 10 kilometres east of Katima Mulilo, are charged with a count of attempting to defeat or obstruct the course of justice, with Sakutiya alone also facing alternative charges of perjury and making conflicting statements under oath.

Their trial, which started before Magistrate Jacobs in the Windhoek Regional Court on February 14 this year, continued last week following a postponement of seven and a half months.

On Wednesday, the trial was postponed again, with it now scheduled to continue on June 11 and 12 2009.

Namibian Police Sergeant Kavenauue Kombungu, who took witness statements from Kwala and Sakutiya on September 17 and 18 2003 respectively, is set to continue giving testimony then the trial resumes.

Sakutiya and Kwala have both pleaded not guilty to the charges.

Sakutiya and Kwala are the first witnesses in the treason trial to find themselves also facing prosecution because of the testimony they gave in the trial - or refused to give.

Sakutiya testified before Judge Elton Hoff on March 29 2006.

He however deviated totally from the contents of the witness statement Kombungu had taken from him three years earlier, and told Judge Hoff that the statement had been taken from him by force.

"By force I mean you are asked to say something that you don't know about and then you are asked to sign for that thing," he told Judge Hoff.

In the witness statement that Sakutiya was disavowing, he had stated that he had agreed to support a separatist organisation in the Caprivi Region, the Caprivi Liberation Army, in 2001.

He thereafter obtained traditional medicine from a traditional doctor to provide this to members of the CLA, who believed it was going to protect them or make them invisible to the Namibian security forces, it was claimed in the statement.

In the statement it was also related that Sakutiya later took the medicine and food to a base where CLA members had gathered in the Kalumba area about 12 kilometres south of Katima Mulilo, and that he also helped to get medical attention for one of the people at the bush base.

Kwala did not testify before Judge Hoff, allegedly after he told members of the prosecution team that he was not willing to give evidence in the matter.

In testimony heard so far by Magistrate Jacobs, a former member of the prosecution team, Niel Lakay, testified that when he consulted with Sakutiya on March 13 and 28 2006, Sakutiya confirmed to him that what was written in his witness statement was correct.

He also said he had not been forced, threatened, intimidated or assaulted by the Police to get him to make the statement, Lakay said.

The day after his last consultation with Lakay, Sakutiya made the turnaround on the witness stand that led to his arrest and subsequent prosecution.

According to Lakay he also consulted with Kwala on March 13 and 28 2006.

He said Kwala, too, confirmed the correctness of what was said in his witness statement.

Unlike Sakutiya, though, Kwala stated in no uncertain terms that he did not want to give evidence in the trial, Lakay testified.

Another of the members of the prosecution team, Deputy Prosecutor General Taswald July, told the Magistrate that he interviewed Kwala on March 29 2006.

July said Kwala denied having given Kombungu names that were in his statement, and claimed that Police officers had forced him to include the names of people that were mentioned in his statement.

It was decided not to make use of Kwala as a State witness in the trial after that interview, July said.

Sakutiya and Kwala remain free on bail of N$1 000 each until their trial continues next year.


Source: www.namibian.com.na
http://www.namibian.com.na/
Support Caprivi Freedom
Fill out the form below to become a member of this site and receive our regular newsletter.