News and Information
---
MESSAGE OF CONDOLENCES
July 15, 2008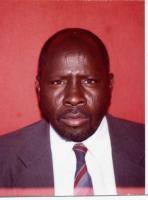 We saying farewell to JOHN NABUTUNGA MABUKU, a colleague, a friend, a brother, a man who had dedicated his life for the liberation of the Caprivi. He worked tirelessly to make sure that his colleagues, friends, his relatives and ordinary Caprivians got the message that it is through the struggle that we can be free.

Today we stand, we say we bow our heads to say goodbye to John. It is very difficult to say this, but we have too. John, you are leaving us behind, you are saying to us "where life has stopped for me" you who are still breathing continue. Continue until that hour when the Caprivi will be FREE.

You had been a driver on this Caprivi Train, not a passenger. You helped to drive many to go forward, and also you helped to influence many to go forward. You helped to say to people do not look over your shoulders, but look forward, until that day that everyone is waiting for in the Caprivi and the world at large, when the Caprivi shall join nations of nations as member.

We shall miss you John, the UDP has been made poorer by your absence now. But we hope and believe those of us who are remaining behind will say to you "backward never, forward ever". You worked hard, even when you were working under the present pressure of the barbaric regime of Sam Nujoma, as Regional Councilor and Regional Governor of Caprivi.

You dedicated your life under those very difficulty circumstances to make sure that the Caprivi will one-day be a free country. It is worth it if one has to say it is a pity, that today we are saying goodbye to you John, not on our land but in other peoples' land. We would have preferred to say what we saying now "goodbye to you" in our country the Caprivi, surrounded by the vegetation of the Caprivi, surrounded by the spirits of the Caprivi, and surrounded by family members, friends and who ever!!.

John, we are saying goodbye, rest in peace. But you have left very big empty shoes that will be very difficult to find anybody who can fit in. Our promise is people; we shall not rest even if it means all of us dying in exile, in refugee camps in other peoples' lands. We want to send message to those back home to please carry on the struggle until the Caprivi is Free.

JOHN MABUKU, rest in PEACE. May the All-Mighty be with you!!

Thank you!!!

MISHAKE MUYONGO
President of the United Democratic Party (UDP)
-For Independence of the CAPRIVI STRIP.
Source: www.caprivifreedom.com
Support Caprivi Freedom
Fill out the form below to become a member of this site and receive our regular newsletter.