News and Information
---
NAMIBIA: IS THERE A CASE FOR CAPRIVI?
July 1, 2008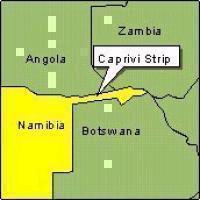 Late 1998 witnessed the exodus of Caprivians into exile with the primary aim of liberating Caprivi from the hands of Namibia and make it an independent state of Caprivi. Those in a know how says the struggle for Caprivi began in the early 60s- It was before I was born, but thanks to history now I understand how and why.

United Democratic Party (UDP) through its veteran leader Mishake Muyongo took a bold decision by fleeing the country and consolidated the party in Botswana and convinced that country's leadership and the United Nations that they deserved political asylum to advocate their political opinions which they were granted.
Nujoma and his inner- circles clearly knowing Muyongo's political acumen and his charismatic leadership influenced the government of Botswana to send him and the entire UDP top leadership far away from Namibia, a move orchestrated at greatly reducing the UDP in size and existence as all its leadership were either in prisons or distant from one another in other countries.

I joined the liberation movement because I was motivated by political activities in Caprivi, though an adent SWAPO supporter at one time and much active in NANSO (a student organization affiliated to Swapo)while in school. Even though I did not understand the motive behind the struggle at first, in exile I started reading the history of Caprivi and following Namibian politics closely with keen interest. The conclusion of my studies is " There are more similarities than differences between the South African colonial regime in then SWA/Namibia and the present Namibian/SWAPO regime in Caprivi.

The South African colonial regime on realizing that they were loosing the political battle in SWA/Namibia, they organized provincial administrations like Kaokoland, Owambo-land, Rehoboth, Okavango etc. The present SWAPO government in Namibia did the same in Caprivi Strip by making Linyanti and Sangwali look like enemies, setting a conflict between Mamili and Mayuni who once belonged to a united tribal authority under the Mafwe tribal authority. The final straw was Nujoma giving Muyako area the land that has been for Mafwe throughout history to Masubia Tribal Authority. I leant two things here:
• Nujoma has an interest in Caprivi that did not finish to the time he left the highest office of the country, and his interest is continuing where he left off with his rubber stamp (Hifikepunye Pohamba).
• This is setting fresh conflict between Subias and Mafwe tribes, as even Subias themselves will never accept that piece of land as theirs.
Let us woke up Caprivians where ever we are, in Namibia, Caprivians in exile and smell the coffee. What ever positions we have in the government, private sectors or peasants. It is long over-due we realize that SWAPO government is practicing divide and rule/ tribal politics in Caprivi. People in Omusati, Oshana, Ohangwena are enjoying the fruits of independence while we are focusing on unnecessary conflicts against each other. It is only Caprivi that has lost thousands of its men and women to other parts of Namibia in the name of nation building. But the truth of the matter they are economic refugees in other parts of Namibia, as they cannot work in Caprivi because there is nothing left after all had been uprooted to other regions.

Caprivians are now all over the planet like USA, Canada, Australia, Botswana, Namibia, Denmark, Finland etc because they are driven by forces of oppression, driven by tribalism and greed instituted by the Namibian government. They are driven by hardships from the place they had always called home since birth.

How will Caprivi develop and who will develop it if Caprivians are not there? Caprivians let us stand together and join hands with those who are outside the country in the spirit of LUYEMI HA MOHO-(We Stand United), for Caprivi and our sons and daughters. Let us bury all our differences for the betterment of Caprivi.

We all know the reasons why Nujoma have an interest in Lyambezi. It is for his brother in law to establish a sugar plantation there for his own selfish enrichment to the detriment of the Caprivian people. Who is going to benefit from this business? Neither the Masubia nor the Mafwes of Caprivi, theirs is to be exploited as laborers. For how long shall we allow SWAPO to divide us, why should we be silent while our land is going?

We need to root out the seeds of divide and rule, tribalism, nepotism, and hatred sowed by Swapo regime in the Caprivi Strip. The most we can do for each other and Caprivi at large is to avoid selfishness. We need to remain vigilant and be ready to defend our territory with all costs, to hasten our long over due freedom from oppression. Caprivi is ours and will remain ours.

Forward Ever Backward Never!!!!

DUMISA
Caprivi Network Services
United Democratic Party (UDP)
www.Caprivifreedom.com


Source: www.carpivifreedom.com
www.caprivifreedom.com
Support Caprivi Freedom
Fill out the form below to become a member of this site and receive our regular newsletter.