News and Information
---
First Caprivi Police assaults trial postponed to early '09
June 25, 2008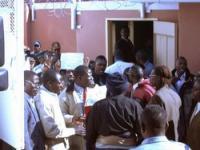 First Caprivi Police assaults trial postponed to early '09

WERNER MENGES

THE first trial on damages claims against Government over the alleged assault and torture of people arrested in the wake of surprise separatist attacks at Katima Mulilo almost nine years ago is scheduled to continue in the High Court in February next year.

It was postponed on Friday after two of the people being prosecuted in the main Caprivi high treason trial testified before Judge Louis Muller on alleged assaults they suffered after being arrested in late 1999 and early 2000.

The two and a third high treason suspect have instituted civil claims against the Ministers of Home Affairs and Defence.

High treason accused Kisko Sakusheka, George Liseho and Aggrey Makendano are claiming a total of N$980 000 from the Ministers for alleged unlawful arrest and detention and assaults after their arrests.

Sakusheka is claiming N$60 000 for assaults he alleges Police officers committed against him, while Liseho is claiming N$300 000 for alleged assaults and N$70 000 for alleged unlawful arrests, and Makendano is claiming N$400 000 as a result of alleged assaults and N$150 000 for alleged unlawful arrest.

The Ministers are defending all three claims.

Makendano still has to have his turn on the witness stand when the case resumes on February 2.

Liseho told Judge Muller that members of the Namibian Police arrested him twice - at Katima Mulilo on November 3 1999, whereafter he was released again the next day, and then at Ngoma on March 3 2000.

According to Liseho, he was hit with sjamboks, kicked and slapped with open hands to the extent that nine of his teeth were knocked out after his first arrest.

After being released, some of his relatives took him to the Katima Mulilo State Hospital for treatment, and he ended up spending two weeks in hospital, Liseho said.

He also claimed that he was forced to drink his own urine after his first arrest.

George Coleman, who is representing the Ministers, told Liseho that the Policeman who he claims kicked him, slapped him and also held a firearm to his head and stuck the barrel of the gun inside his mouth, was denying the allegations.

That Policeman, referred to as Dominic by Liseho, was not even at Katima Mulilo at the time of Liseho's first arrest, Coleman told him.

Coleman also said that in the claim he filed with the court, Liseho was alleging that Dominic was responsible for beating him with a sjambok after his first arrest.

In his testimony, though, Liseho claimed Police officer Evans Simasiku had sjambokked him, while the other Policeman had kicked and slapped him.

Liseho told the Judge that his evidence in court was the correct version of events, and that he had been speaking through an interpreter when his legal representatives took instructions from him to prepare the claim that was filed with the court.

If the Police officers denied having assaulted him or having been involved in his arrest, they would be lying, he said.

"I was assaulted very much that time, and I was tortured," Liseho stated.

About the Police officer named Dominic's denials of having assaulted him after the alleged November 1999 arrest, Liseho responded: "Yes, he can deny, but God who is in heaven knows what he did."

Liseho said when he was arrested again in March 2000, he was again assaulted.

This time, the assaults continued over a number of days, until he made a first appearance in the Katima Mulilo Magistrate's Court, he claimed.

Some of these assaults took place in a room at the Katima Mulilo Police Station that was specifically used by Police officers as a sort of 'torture room', Liseho claimed.

Liseho however made no mention of having been assaulted when a Magistrate specifically asked him about such a possibility, when he appeared before the Magistrate on May 3 2000 to have an alleged confession from him recorded, Coleman said.

The hearing on the damages claims of Sakusheka, Liseho and Makendano is the first such trial on civil claims by Caprivi high treason suspects who say they were assaulted and tortured by members of Namibia's security forces to have gotten off to a start in the High Court.

A second trial is supposed to start in the High Court today, while a third is scheduled to begin next week.


Source: www.namibian.com.na
http://www.namibian.com.na/
Support Caprivi Freedom
Fill out the form below to become a member of this site and receive our regular newsletter.