News and Information
---
Caprivi 'torture' trial starts
June 20, 2008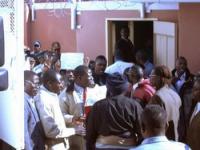 Caprivi 'torture' trial starts

WERNER MENGES

ALMOST nine years after separatist attacks in the Caprivi Region shattered Namibia's post-Independence peace and brought the country's human rights record into disrepute, the first trial on damages claims against Government over the alleged assault and torture of people caught up in the Namibian Police's Caprivi high treason case dragnet started in the High Court in Windhoek yesterday.

Civil claims that three of the men being prosecuted in the main Caprivi high treason trial - Kisko Sakusheka, Aggrey Makendano and George Liseho - have lodged against the Minister of Home Affairs and the Minister of Defence are the first of some 127 such cases against Government to go on trial.

Sixteen similar claims have been settled out of court so far.

The trial kicked off under a heavy Police presence, with more than a dozen members of the Namibian Police, dressed in camouflage uniforms, inside and outside the courtroom where the trial is taking place to keep an eye on the treason suspects at the centre of the three claims.

Judge Louis Muller is on the bench.

Sakusheka, who was arrested on April 15 2000, is claiming N$60 000 from the Minister, who used to be responsible for the Namibian Police, as a result of assaults that he claims he was subjected to after his arrest.

Makendano is suing for N$550 000 in total, of which N$400 000 is for alleged assaults on him after his arrest on August 12 1999, and N$150 000 is for him allegedly having been unlawfully arrested and detained.

Liseho is claiming N$370 000 from the Home Affairs Minister, with N$300 000 being for assaults that he alleges were perpetrated on him after he was arrested twice, N$20 000 being claimed for having been arrested for a first time on November 3 1999 before he was released again the next day, and N$50 000 being claimed for having been rearrested - again allegedly unlawfully - on March 4 2000.

The Ministers are defending all three claims.

In pleadings filed with the court on their behalf, the alleged assaults and unlawfulness of the arrests are all being denied.

ASSAULTS RECALLED Sakusheka told Judge Muller yesterday that he is 42 years old and not able to read or write.

Around 05h00 on April 15 2000, he was at his home in the Makanga area in the Caprivi Region when a group of Police officers arrived at his house to arrest him, he testified.

The only officers whose names he knows, are one Simasiku, Tsei-tseimou, and Mbinge, he said.

The assaults started outside his house, on the way to the Police cars that were standing nearby, Sakusheka said.

"They were beating me with their fists, and they were also using these Police sjamboks," he claimed.

"The person who was holding the sjambok was Mbinge," he added.

"He sjambokked me all over my body."

Sakusheka showed the court a scar on his right ear, where a part of the ear is missing, another scar, about the size of a ten-cent piece, on his right shin, and another healed wound on the side of his left shin.

The injury on his right shin was the result of being beaten with a rifle-butt by Tsei-tseimou while he was being transported in a Police vehicle from his village to Katima Mulilo, Sakusheka claimed.

At the Katima Mulilo Police Station, he was locked up in a cell, he said.

On the next day, he was taken out of the cell and subjected to another beating, which made him faint or collapse, he related.

That beating, with fists, did not leave him with any injuries, he said.

George Coleman, representing the Ministers on instructions from the Government Attorney, told Sakusheka that the Police officers being accused are saying that they never assaulted him.

Sakusheka replied: "They assaulted me."

When Coleman further told him that Simasiku would tell the court that he was not even at Makanga at the time of Sakusheka's arrest, he replied: "He's only denying, but he assaulted me."

CO-SUSPECTS TESTIFY Legal Assistance Centre lawyer Lynita Conradie, who is representing Sakusheka and the other two plaintiffs, also called three other Caprivi high treason suspects to give evidence in support of Sakusheka's claim.

The first, Roster Lukato, told Judge Muller that that on the morning of April 15 2000, when he was also arrested, he saw Police officers beating Sakusheka with their fists and kicking him as they made their way from his house to the Police cars parked outside.

"They were beating him.

They were not playing, they were beating him," he said.

Once Sakusheka was in one of the vehicles, Mbinge and Tsei-tseimou continued beating him, with Tsei-tseimou hitting him with a gun and injuring his leg in the process, Lukato claimed.

Sakusheka's brother-in-law, Frederick Lutuhezi, told the court that he, too, was arrested that morning.

He said he first saw Sakusheka at the Katima Mulilo Police Station, and noticed then that Sakusheka had been beaten, with blood over his body and a big wound on his right ear.

Another high treason accused, Davis Mazyiu, who said he also came from the Makanga area, told the court that he had been arrested on April 13 2000.

Around 02h00 on April 15 2000, Police officers woke him up and took him from the cell where he was kept at the Katima Mulilo Police Station, he testified.

He was at first blindfolded, but his blindfold was taken off before he and the Police arrived at Makanga village, he said.

Mazyiu claimed he first witnessed Lukato being assaulted when Lukato got arrested.

When Sakusheka was arrested thereafter, he also saw him being beaten by Mbinge and Tsei-tseimou, Mazyiu claimed.

He said the assault on Sakusheka continued in the police vehicle in which he and Sakusheka were being transported together from Makanga.

It was in the car that one of Sakusheka's legs was injured when he was hit with a firearm, Mazyiu said.

"He was even crying, because of being beaten," he said.

Once they had reached the Police Station, he added, he could see that Sakusheka "had really been beaten."

"He was full of blood," Mazyiu claimed.

The trial is set to continue today.

Conradie and fellow LAC lawyer Toni Hancox are representing the plaintiffs.

Government Attorney Chipo Machaka is representing the Ministers with Coleman.


Source: www.namibian.com.na
http://www.namibian.com.na/
Support Caprivi Freedom
Fill out the form below to become a member of this site and receive our regular newsletter.