News and Information
---
Opposition wins Zimbabwe assembly
April 2, 2008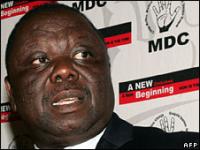 Opposition wins Zimbabwe assembly

Morgan Tsvangirai's MDC has ended Mr Mugabe's grip on parliament


The rivals

Zimbabwe's main opposition party has won a majority of seats in parliament, displacing the ruling Zanu-PF, final official results show.

The Movement for Democratic Change (MDC) took 99 seats, while President Robert Mugabe's party polled 97.

With presidential election results yet to be declared, the MDC said its leader had won, but Zanu-PF denied this.

Meanwhile Mr Mugabe's ambassador to the UN told the BBC the president had no intention of leaving the country.

"Robert Mugabe is Zimbabwean," said Boniface Chidyausiku. "He has lived his life to work for Zimbabwe. Why should he choose another country?"

'A fighter'

Zimbabwe's Deputy Information Minister Bright Matonga said no clear winner had emerged in the presidential poll.

In the event of a run-off against MDC leader Morgan Tsvangirai, he said Mr Mugabe would fight on.

ELECTION RESULTS SO FAR
Parliamentary constituencies
MDC-Tsvangirai: 99
Zanu-PF: 97
Breakaway MDC faction: 10
Independent: 1
Undeclared: 3
Presidential results
None so far
Winner needs more than 50% to avoid run-off

Is Mugabe losing his grip?
"He's a fighter," said Mr Matonga. "And he fights best when he's put in a corner like this."

The MDC released its own results to back up its claim of victory in the presidential poll, saying Mr Tsvangirai had won 50.3% of the vote to Mr Mugabe's 43.8%, so avoiding a second round of voting.

But those figures have been questioned. The Zimbabwe Election Support Network, a coalition of civil society organisations, said Mr Tsvangirai had won 49% to Mr Mugabe's 42%.

MDC Party Secretary General Tendai Biti said the party would be prepared to take part in a run-off if the Zimbabwe Election Commission (ZEC) decided neither of the main candidates had won outright.

British Foreign Secretary David Miliband said official results of the presidential election should be announced swiftly.

'Safe MDC areas'

In elections for the 210-member assembly, an offshoot MDC faction at odds with Mr Tsvangirai won 10 seats, according to the ZEC's final results.


Mr Mugabe has not been seen in public since Saturday's elections

One seat was won by an independent candidate and polling in three constituencies was postponed as candidates died in the run-up to elections.

Wilf Mbanga, editor of the UK-based Zimbabwean newspaper, told the BBC the postponed elections could hand more seats to the MDC.

"The three seats are in what were previously safe MDC areas," he said.

While the parliamentary victory is significant, Mr Mugabe has changed Zimbabwe's constitution several times in the past 28 years to leave most power in the president's hands, says the BBC's Grant Ferrett in neighbouring South Africa.

There are real fears of unrest if the presidential contest enters a second round, our correspondent adds.

Mugabe 'weakness'?

In a separate development, a senior Zanu-PF official has told the BBC he believes Mr Mugabe has been fatally damaged.

The official, who did not want to be identified, said that by not declaring victory on Sunday or Monday, Mr Mugabe had shown weakness.

Now civil servants and police were determined to show even-handedness in their treatment of the Zanu-PF and the opposition, he said.

Zanu-PF has rejected suggestions that talks have been taking place with the MDC on a possible handover of power.

MDC sources had earlier told the BBC that the outline of an agreement had nearly been reached for Mr Mugabe to leave office.

Mr Mugabe, 84, has not been seen in public since the election but Mr Matonga has denied rumours the president had left the country.

He came to power 28 years ago at independence but in recent years Zimbabwe has been plagued by the world's highest inflation, as well as acute food and fuel shortages.


Source: www.bbc.com
http://news.bbc.co.uk/2/hi/africa/7327725.stm
Support Caprivi Freedom
Fill out the form below to become a member of this site and receive our regular newsletter.