News and Information
---
Botswana's President Steps Down
April 1, 2008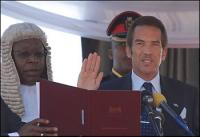 Botswana's President Steps Down

By CELEAN JACOBSON
The Associated Press
Tuesday, April 1, 2008; 11:18 AM


GABORONE, Botswana -- Botswana's president stepped down Tuesday, handing over power to his vice president in a smooth transition.

The Botswana Democratic Party, in power since the former British protectorate gained independence in 1966, virtually anoints the next head of state. The BDP is expected to continue its dominance in the face of a weak and divided opposition.

The new president, Seretse Ian Khama, said at his inauguration that "leadership changes can be a time of unease," but that it doesn't mean "radical changes." He said he shared the same objectives that Festus Mogae, 69, and the previous government had pursued.

Khama, the son of Botswana first's president, Sir Seretse Khama, now can run as an incumbent in elections next year.

Mogae, an Oxford educated economist, presided over a decade of economic growth and political stability. He was praised for his fiscal discipline, prudent management style and for tackling the country's high HIV/AIDS infection rates, which are among the worst in the world.

He took an AIDS test publicly and addressed the issue in almost every one of his speeches. Lifesaving anti-retroviral drugs are known locally as "Mogae's tablets." A decade ago nearly 40 percent of the country was infected and Mogae said in 2001 that his nation was "threatened with extinction."

Today, the number of children being infected with HIV by their mothers has dropped from 40 percent to 4 percent and anti-AIDS drugs are reaching 95,000 of the 100,000 needy people.

The sparsely populated country the size of Texas, known for its warm hospitality and spectacular wildlife, is also the world's largest producer of diamonds. Mogae transformed it from one of the world's poorest countries to one of the wealthiest in the region, venturing into cutting and polishing diamonds instead of just exporting uncut stones and leaving most of the profit-taking to foreigners.

Source: www.washingtonpost.com
http://www.washingtonpost.com/wp-dyn/content/article/2008/04/01/AR2008040100981.html
Support Caprivi Freedom
Fill out the form below to become a member of this site and receive our regular newsletter.