News and Information
---
Caprivi Without a Governor
December 20, 2007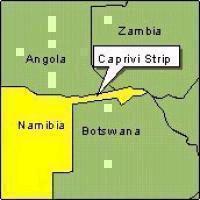 Caprivi Without a Governor

Friday, 21st of December 2007

By Kuvee Kangueehi

WINDHOEK

Leonard Mwilima's appointment as the Governor of the Caprivi Region has been nullified following a meeting between all Caprivi regional councillors and the Swapo Party Secretary General, Pendukeni Iivula-Ithana.

This leaves the Caprivi Region without a governor as both the previous governor, Bernard Sibalatani, who was the chosen candidate of the Swapo Party and Mwilima will remain ordinary regional councillors.

At the closed door meeting yesterday it was resolved that the Swapo Party will send leaders assigned to the region to oversee another election to appoint a new governor.

A regional councillor who spoke on condition of anonymity alleged that the Swapo Party Government is uncomfortable with a Mafwe governor because
of the 1999 secessionist uprising.

"There is still a cloud han-ging over the Mafwes because Muyongo is a Mafwe despite the fact that the Mafwes have given their vote to Swapo and it's controlling all six constituencies," hed said.

The councillor said the Mafwe people are not happy that Sibalatani, a Sibiya, is governing the region.

The councillor further claimed that some people in the region are unhappy with Sibalatani's performance and claim that he wants to give all the food aid to the Sibiya people.

The eastern part of the Caprivi Region, where the majority of the Mafwes live, experiences regular droughts while floods affect the Sibiyas in the west.
The councillor claims that Sibalatani only gives food aid to his people in the west when there are floods and does not give any food aid to the Mafwes during drought.

Food aid which was found rotten at Katima Mulilo is said to have been Sibalatani's fault as he refused to give it to the Mafwe people who were experiencing drought and was instead storing it for the Sibiyas.

The councillor also blamed Sibalatani for the N$3,5 million earmarked for development in the Caprivi Region that was returned to Government treasury in 2005.

Source: www.newera.com.na
http://www.newera.com.na/page.php?id=5107
Support Caprivi Freedom
Fill out the form below to become a member of this site and receive our regular newsletter.